About Heritage Gateways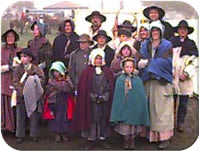 In support of the Sesquicentennial Mormon Trail Wagon Trek, the Utah Education Network (UEN) was designated the official, educational web site for the Mormon Trail Re-enactment. As such, UEN, in partnership with the Utah State Board of Education, BYU Public School Partnership, Heritage Gateways Ltd., and the Mormon Trail Wagon Train - 150 Years, Inc. has created an educational, interactive online project site for students, teachers and families that followed the trek as it unfolded and continues to provide a database of historical data.
The Heritage Gateways site features historical diaries, excerpts from published books such as I Walked to Zion, articles, commentaries, maps and video clips all reflecting the life and times of those early pioneers. The site is also a rich source for scholarly writings, links to other Internet resources, and a comprehensive bibliography of related writings, maps and organizations all related to the study of the pioneers, as well as instructions on how to build an authentic handcart.
For the teacher in the classroom, this online project has high quality lesson plans and activities appropriate for elementary, middle school and high school students plus a special section featuring original student art work depicting life as a pioneer. Young people might especially enjoy reading stories of the children who experienced the trek first-hand 150 years ago in the Trail Pioneers section.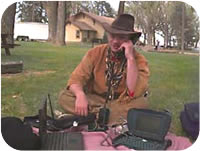 Perhaps one of the most exciting aspects of the Heritage Gateways project is the "living" diaries in the Daily Journal Entries section which were created and posted from the re-enactment trail. Journalers had Macintosh laptops, Apple eMates, and a cellular phone to upload their writing to the site. These modern diaries provide a great contrast between pioneer life in 1847 and recreating the trek 150 years later. UEN also provided a QuickTake digital camera for the re-enactment photo album.
Although the re-enactment ended on July 22nd, the Heritage Gateways Project web site continues to grow and develop, with many more lesson plans, historical resources, diaries, pictures and images, and video clips being added.