Pioneer 1847 Companies
1847: Monday, April 5 - Six Wagons Slowly Began Epic Journey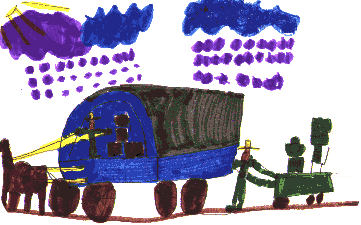 Description:
Colored marker picture by a 4th grader at Valley View Elementary.
Image courtesy of:
Heritage Gateway Project Images, These images have been gathered to support the Sesquicentennial celebration of the immigration to Utah.
Location: Winter Quarters - 1014 miles left, Nebraska - Location: 41:21:41N 95:56:45W Currently the site of Florence, Nebraska, Winter Quarters was settled in September, 1846 as a temporary resting place for the pioneers. It is located just west of the Missouri river in Nebraska.
Date: April 5, 1847
Despite rainy weather, Heber C. Kimball led six loaded wagons from the Mormon refugee town of Winter Quarters on the west bank of the Missouri River and moved toward the open prairie to the west.
With the river at their backs, the teams slowly made their way just three miles before halting and setting up camp on the plains of what is now Nebraska. In 1847 it was strictly Indian country.
This brief march by a handful of wagons hardly was an impressive event, but it was the beginning of an exodus destined to become an epic in American history -- the trek of the Mormon pioneers across a thousand-mile wilderness to what is now Utah.
In the next 22 years, before the transcontinental railroad was linked in 1869, more than 68,000 pioneers, 9,600 wagons and 650 handcarts would make the long trip in search of religious freedom
Unlike the Hollywood version, the first Mormon wagon train to embark on the journey did not neatly line up, say goodbye, and set forth with a "westward ho" cry.
Instead, Kimball's wagons were slowly followed by a half dozen similar small groups in subsequent days, leaving at different times, taking slightly different routes and camping at scattered places on the prairie.
Even after departing Winter Quarters, many men in these groups rode back repeatedly to take care of last-minute business, hold conferences and meet with missionaries returning from abroad.
Not until about 10 days later did all the wagons assemble on the banks of the Platte River some 35 miles northwest of Winter Quarters and get fully organized under the leadership of Brigham Young. That the 46-year-old Kimball was the first on the trail was not surprising. Since encountering Mormon missionaries in Mendon, N.Y., he had been a dedicated and driving force in the fledgling Church of Jesus Christ of Latter-day Saints.
A 6 foot, 200-pound barrel-chested blacksmith, he said of his meeting with the missionaries in late 1831: "As soon as I heard them, I was convinced they taught the truth." He never looked back.
He joined the church in April, 1832, and within four years was a member of its original quorum of 12 apostles. He served eight proselyting missions, including the founding of the enormously successful British mission.
By the time of the Mormon exodus he was second to Brigham Young in seniority among the apostles and was Brigham's trusted friend and right-hand man.
As his tiny group camped in the darkness on the prairie that first night, they were once more without a roof over their heads -- a situation they had shared often with other members of the church since its founding.
The church was organized in Fayette, N.Y., in April, 1830, with six members. It grew rapidly, but persecution drove the followers to Ohio, to Missouri and finally to Illinois where they built Nauvoo, at the time the largest city in the state.
The Mormons prospered in Nauvoo for a few years, but their growing numbers and influence brought more persecution. Finally, their leader Joseph Smith and his brother, Hyrum, were killed by mob action in 1844.
A year and a half later the Mormons began to abandon their thriving city under the threat of massive mob violence. They struggled across Iowa in the winter and spring. They froze and starved and the living left behind hundreds of loved ones in unmarked graves. The physical and emotional suffering was intense.
Their history of one exodus after another, the persecutions, beatings and even murders, had convinced the Mormons that their only safety lay in leaving settled portions of the United States and moving to the distant Rocky Mountains, at that time in the hands of Mexico.
Now, on April 5, that journey had begun. Ahead lay the unknown. But Kimball and his associates were in high spirits. They worried about family and friends left behind, but ahead was not just a trail of tears. There was also freedom -- freedom from persecution, freedom to be themselves, to hunt, fish and explore new lands.
Typically, Kimball never complained about any of the trek" s hardships. Instead, his journals indicate he seems to have had a great time. Most of those early pioneers probably did.
The site of Kimball's first camp is near a little-used section of old State Highway 36 in Nebraska. Where his oxen hauled the wagons at a slow two miles an hour, aircraft now hurtle overhead to and from the nearby North Omaha Airport.
The surrounding area is one of small farms and pleasant homes just outside the metropolis of Omaha, which was laid out in 1854, shortly after the Nebraska Territory was organized by Congress.
Source:
111 Days to Zion
© Copyright 1997 Big Moon Traders and Hal Knight. All rights reserved. No part of this book may be reproduced or utilized in any form or by any means, electronic or mechanical, including photocopying, recording or by any information storage and retrieval system, without permission in writing from the publisher. This includes educational uses.