Pioneer 1847 Companies
1847: April 05-09 The Great Exodus had a Modest Beginning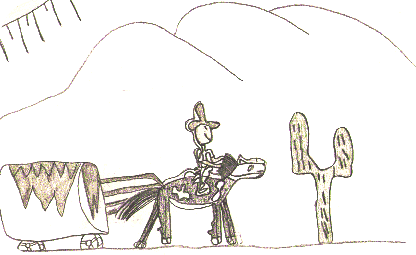 Description:
Colored pencil drawing by Quintin a 4th grader.
Image courtesy of:
Heritage Gateway Project Images, These images have been gathered to support the Sesquicentennial celebration of the immigration to Utah.
Location: Winter Quarters - 1014 miles left, Nebraska - Location: 41:21:41N 95:56:45W Currently the site of Florence, Nebraska, Winter Quarters was settled in September, 1846 as a temporary resting place for the pioneers. It is located just west of the Missouri river in Nebraska.
Date: April 5, 1847
The beginning of the great exodus west by the Mormon pioneers was modest -- hardly an indication of the flood of emigrants to follow in the next 22 years.
Only a handful of wagons left Winter Quarters in the first few days of the trek. And those wagons departed at different times and took slightly different routes, traveling very few miles before halting on the prairie.
The pioneer company soon would be well organized, but at the start, small parties headed out as they were ready, their first objective being the Elkhorn River some 20 miles to the west. The river had been adopted as the staging ground and jumping off place.
Source:
111 Days to Zion
© Copyright 1997 Big Moon Traders and Hal Knight. All rights reserved. No part of this book may be reproduced or utilized in any form or by any means, electronic or mechanical, including photocopying, recording or by any information storage and retrieval system, without permission in writing from the publisher. This includes educational uses.