Pioneer 1847 Companies
The Pioneer Trek of 1847 - Staging Ground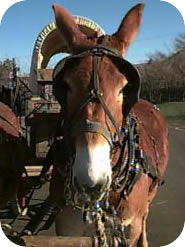 Description:
A mule from Daniel's wagon on the day of the media rollout at Indian Hills Elementary School.
Image courtesy of:
Heritage Gateway Project Images, These images have been gathered to support the Sesquicentennial celebration of the immigration to Utah.
On April 5, 1847, the first wagons started west and after a few days the main body of pioneers were at their staging ground on the Platte River, 47 miles west, near what is now Fremont, Nebraska. This site was later dubbed the Liberty Pole staging ground because later Mormon emigrants erected a forty-foot-tall cottonwood pole, flying a white flag, here. This staging ground on the Platte, similar to the earlier staging ground at Sugar Creek in 1846 in Iowa, was necessary since leaders like Young and Kimball had to go back and forth between Winter Quarters and the Platte in order to get the "drag tails" under way, and the whole migration organized and ready to go. On April 14th, Young and Kimball left Winter Quarters and joined the main camp at the Liberty Pole Camp.
At the Platte River camp the group consisted of 148 people, 72 wagons, 93 horses, 66 oxen, 52 mules, 19 cows, 17 dogs, and some chickens. There they organized paramilitary fashion into two large divisions, each of which was split into units of 50s and 10s, each with its respective leaders. Young led the first division, Kimball the second; Stephen Markham and Albert P. Rockwood were appointed captains of the hundred, with Addison Everett, Tarlton Lewis, James Case, John Pack, and Addison Roundy captains of the 50s.
Source:
Historic Resource Study - Mormon Pioneer National
By Stanley B. Kimball, Ph.D., May 1991. (The study focuses on the history of the trail from its official beginning in Nauvoo, Illinois, to its terminus in Salt Lake City, Utah, during the period 1846-1869. During that time, thousands of Mormon emigrants used many trails and trail variants to reach Utah. This study emphasizes the "Pioneer Route" or "Brigham Young Route" of 1846-1847. The sections on Mormon beliefs and motivations for going west have been omitted. Interested persons can find ample sources for that information. The footnotes, bibliography, maps, pictures, pioneer companies by name and dates for the 22-year period, and historic sites - about 2/3 of the book - have also been left out for space considerations. Thanks to Dr. Kimball and the National Park Service for the availability of this information.)