Back
William Clayton Journals
May 14, 1847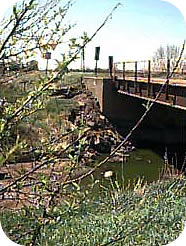 Image courtesy of:
Heritage Gateway Project Images, These images have been gathered to support the Sesquicentennial celebration of the immigration to Utah.
Summary: Swampy travel. Violets. Tough inclines. Credit where credit is due.
Journal entry: FRIDAY: The morning cloudy and very cold. In the west could occasionally be seen streaks of lightning and distant thunder heard. At 8:00 a. m. the dark clouds having approached nearer, it commenced raining pretty hard, accompanied by lightning and thunder. The President ordered the horses got up just before the rain commenced; and after the storm ceased, we started onward at a quarter past ten.
After traveling about a mile we passed among and around the high bluffs, our course lying nearly in a north direction for some time, then turning south and on again approaching the river, nearly southeast. When within about three quarters of a mile from the river, we stopped to feed at twenty minutes to two, having traveled six and a quarter miles.
We have got on the level bottom again and are probably not more than three miles in a direct line from where we started this morning. Presidents Young and Kimball went forward to point out the route; which is very good to travel, although considerably uneven. Brother Higbee killed an antelope and wounded another which made its escape while he was loading his rifle.
We have better feed here than we have had for some time. We had a little more rain just as we came to a halt. We have not had much wind this morning but it is now increasing from the north. It is somewhat warmer than this morning. The atmosphere cloudy and looks as if we might have more rain.
The land between the two forks for about 25 miles is perfectly flat and very level without timber. The bluffs there rise suddenly, apparently in a line from fork to fork.
There are many buffalo back in the valleys between the bluffs, and although there is no sign of the prairie having been burned, it is evident the buffalo have kept it eaten clean off, but have moved back and east, probably since the Indians have been hunting them.
Some of the brethren have discovered fresh tracks where the Indians have gone up this north stream evidently very lately. But we are satisfied the Lord hears the prayers of his servants and sends then the way, before we come up to them.
At three o clock we proceeded on our journey, keeping above the lower prairie, which appeared soft and swampy. Our road was very uneven. We went two and a half miles and at half past four stopped to learn the report of those gone ahead to look out on the road. There is another high range of bluffs about half a mile west of us, extending to the river. Elder Kimball went across the several ranges of bluffs to the west side, and hunted for a road in various directions, but there did not appear to be any possibility of finding a road between the bluffs, without going many miles around.
President Young and he concluded it would be best to camp where the wagons are and in the morning cross right over the bluffs by doubling teams. Accordingly the encampment was formed about five-thirty, the train having traveled eight and three quarters miles today.
Our course this afternoon nearly west, wind southeast. The feed for our teams grows much better, and on one of these high sandy bluffs I saw a large bed of flowers, not unlike the violet, and very rich. The sand on the bluffs in some places looks like large drifts of snow, and in other places seems to have deep chasms as if wasted by heavy rains. The atmosphere is still cloudy but not so cold as it has been.
The hunters have killed two buffalo, three antelope and one badger during the day, which will be very acceptable. It was dark when the hunters returned to give information. The revenue cutter was sent after the meat which was reported to be a mile and a half distant. It was late when they returned. There was an alarm made by the guard in the night supposing the Indians were near. The camp were aroused to secure their horses, but we had no further trouble about them.
I discovered that Brother Appleton Harmon is trying to have it understood that he invented the machinery to tell the distance we travel, which makes me think less of him than I formerly did. He is not the inventor of it by a long way, but he has made the machinery, after being told how to do it. What little souls work.
Source: William Clayton's Journal
Published by the Clayton Family Association, and edited by Lawrence Clayton. To the best of our research, this contents of this book are no longer under copyright.