Back
Margaret Clark Journals
May 7, 1997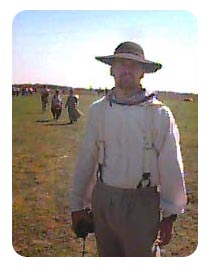 Image courtesy of:
Heritage Gateway Project Images, These images have been gathered to support the Sesquicentennial celebration of the immigration to Utah.
Location:
Kearney - 810 miles left, Nebraska -
Location:
40:41:58N 99:04:52W
Elevation:
2150 feet
Summary: Into Kearney in the evening. Romance is blooming.
Journal entry: It is hard to believe that wherever we go and all the towns we go through, we are given such an incredible welcome. We think that the last place was great and then we enter a new town and it's better than ever. We got to Kearney later this afternoon after meeting up with the train that has been traveling the Southern route. We have an additional 10 or 12 wagons and an incredible walker. They have been covering between 20 to 35 miles per day and I guess Sara has been keeping up fairly well. She is being carried by angels, I'm sure.
We filled the fairgrounds at Kearney. They delighted us with a delicious buffalo stew and cornbread. Then the program began. It was a wonderful program. We heard the middle School band, the High School band (they were really good!), poetry and pioneer stories and a country group. The end of the day was a guided tour through the building in which 7 different pioneer scenes were displayed. It was really interesting. Then the kids did some fun dancing.
What a very fun time. To all the people of Kearney who offered us your love, friendship, showers (thanks to the School), food, entertainment...we thank you. It was a party!!!!
And I especially want to thank two gentlemen who were my lifesavers. First is Brother Lon Pearson. Bro. Pearson is Public Affairs for the church in this area. He seems to know everybody. I was having problems with the computer and he spent a great deal of time just helping me. We seem to have gotten a lot of the problems worked out, but, Lon, you're great! When I saw you at the park, it was like meeting an old friend. And especially thanks to Randy Hinrichs at Computer Hardware Inc. in Kearney for donating his time to me and this thing (called a computer) that I baby-sit. So appreciate you!
I need to just send out a challenge to anyone out there who is hesitant or afraid or whatever when it comes to learning the computer. There was no one dumber than me when it comes to computers. With a little push and shove (well, maybe a BIG push) I can find the power button now. Don't ask me the big words yet, but maybe I'll even take a class. It's an incredibly wonderful new invention. Just for the knowledge, it's great! Now maybe even YOU can beat the kids to the computer and know what's going on.
You know what's fun in the evening at camp? We walkers just gather around and talk and laugh and visit. If somebody has extra food, we share it. Hair gets cut. Feet are soaked in buckets. Remedies and suggestions are discussed. It's just a lot of fun.
Tonight I want to tell you about Mike Dunne, the captain of the handcarts. Mike is from Anaheim, Ca. He was just released from his mission two months ago. He served in the Nebraska mission. We are walking through his area. People love him here. He made some great friends. After the trek, Mike wants to go to Washington State and work on his friend's farm. He said it will help him make money so he can start Junior College this Fall. His desire is to major in Business.
Sister Cunningham (she and Brother C are missionaries at the Genealogy booth here on the trek) knew Elder Dunne very well on his mission. Well, Mike was a little friendly with one of the girls on the trek and Sister C. saw it. She was appalled because Elder Dunne had hugged a girl. Brother C said, "My dear. He is no longer Elder Dunne. He's Mike." She said she laughed about that one. [When serving on a mission, the missionaries must stay at arm's length from the opposite gender.]
What crowds in Kearney!!! We have been received well. What lovely people. HappyNetTrekking!