Back
Osamu Sekiguchi Journals
May 23, 1997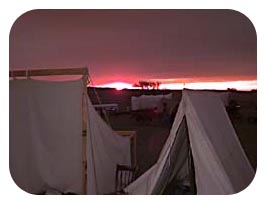 Image courtesy of:
Heritage Gateway Project Images, These images have been gathered to support the Sesquicentennial celebration of the immigration to Utah.
Location: Lemoyne, Nebraska - Location: 41:16:21N 101:48:46W
Summary: Friday, May 23, 1997 (rain / cloudy 67.5F)
Journal entry: [Translated by Tomoko Nakayama]
It rained very hard last night.
In our tent, the heavy patter of rain felt like spears poking our tent. I was worried, so I checked the ground sheet that lay under our tent many times through the night. Because of this, the ground sheet didn't wet, but I didn't sleep well.
We walked about 16 miles today and arrived at the town named Lemoyne. It may be correct to say "a place" rather than "a town" since there is no town around here.
Unlike other places we had camped at, we camped by the lakeshore, and it looked like a very cool place. I had only had images of flat, huge plain about Nebraska, but the big lake looks like an ocean, so I feel like we are camped on some island. The rain stopped while we walking, leaning a slight drizzly which I didn't even feel.
"It's good to not feel so dusty today."
"Ya, it's a good feeling to walk in the drizzling rain."
"The humidity is moderate, and it feels like the beginning of Spring in Japan, doesn't it?"
"It's good that our tent was cleaned by last night's rain, isn't it?" That was our conversation.
It was very easy to fold the tent in the dizzle.
"Our tent skills have improved," I said.
"Is there any benefit to knowing how to take care of a tent?" Takako asked.
"No, not at all," I answered.
"Then, it doesn't matter if your tents skills improve or not."
"That's true..."
Our skills are getting better naturally, but unfortunately, this is not really useful once we get back to Japan.
Kathy, who pitches her tent next of us, sometimes times how fast she can pitch her tent.
"Oh! I broke the record of 7 min!" Kathy exclaims happily.
"That's great, she did less than 7 min. Tomorrow we want to do in 7 min, too." It's a truly crazy conversation.
But I secretly think I want to break 6 min sometime.