Back
William Clayton Journals
April 15, 1847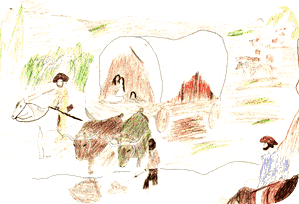 Image courtesy of:
Heritage Gateway Project Images, These images have been gathered to support the Sesquicentennial celebration of the immigration to Utah.
Location: Elkhorn River Crossing - 986 miles left, Nebraska - (nine rods wide, three feet deep) - 27 miles from Winter Quarters. Seven miles south and further west, over the Elkhorn River, members of the first company camped here April 11, 1847.
Summary: Reached and crossed the Elk Horn River
Journal entry: THURSDAY. After eating and prayers by Bishop Whitney, started at half past seven and got to the Elk Horn at 11:30. We were all across at 12:00 and there we overtook Brigham, G. A. Smith, E. T. Benson and Amasa Lyman. We arrived at the pioneers Camp about 3:00 p. m. This camp is about twelve miles from the Elk Horn and about 47 from Winter Quarters. I spent the evening with Aaron Farr, Horace Whitney and Jackson Redding.
Source: William Clayton's Journal
Published by the Clayton Family Association, and edited by Lawrence Clayton. To the best of our research, this contents of this book are no longer under copyright.