Back
Brigham Young Journals
April 4, 1847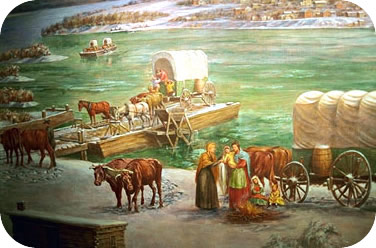 Image courtesy of:
Pioneer Trail State Park, This park includes the 'This is the Place Monument' and 'Pioneer Home and Garden: Old Deseret Living History Museum.'
Location: Winter Quarters - 1014 miles left, Nebraska - Location: 41:21:41N 95:56:45W Currently the site of Florence, Nebraska, Winter Quarters was settled in September, 1846 as a temporary resting place for the pioneers. It is located just west of the Missouri river in Nebraska.
Summary: Captain Fremont's topographical map, letters, dancing, medicine preparations, and disorderlyness.
Journal entry: Sunday: Elders Orson Pratt and E. T. Benson preached this forenoon. My brother, Lorenzo, Elder Lyman and myself preached in the afternoon. John Y. Greene brought twenty-six letters from Nauvoo, Mount Pisgah, and other places. T. Bullock made a sketch of Cap. Fremont's topographical map of road to Oregon for the use of pioneers.
Elder Lyman Stoddard recived a recommendation and certificate of authority to preach on the Pottawatomie lands.
The twelve wrote a lengthy letter to Mrs. Luch Smith, mother of the Prophet Joseph, inquiring after here whereabouts and circumstances, and offereing to convey her westward if she desired to join the body of the Church.
A letter was also written by the Council to Elder Nathaniel H. Felt. St. Louis, directing him to tarry and preside over the Church there. The Council advised the brethren there who were in the patriarchial order of marriage to emigrate westward this spring; and counselled the brethren to let dancing alone; else it would prove a snare and and a trap in which the enemy would catch many souls.
Dr. Darwin Richardson was invited to emigrate westward immediately bringing as good a stock of medicines as his circumstances would permit.
The Church at St. Louis was directed to disfellowship all members who were disorderly, regardless of their professions or annointings.