Historical Pioneer Biographies
Sarah Fish
Born: 1828 Died: 1905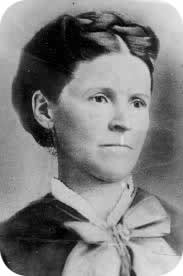 Crossed the plains with her husband (John Calvin Lazell Smith) by covered wagon in 1848 and settled in southern Utah. She once saved an Indian girl's life.
Biography:
This history of Sarah Fish was written by her granddaughter, Thelma Miller Higbee.
Sarah Fish was born 24 Oct 1828 in Charlston, Stanstead Co., Quebec, Lower Canada. She was the daughter of Horace Fish[652] and Hannah Leavitt[653]. Her father, Horace, was born at Hatley, Quebec, Lower Canada, 6 Jan 1799, the son of Joseph and Sally Spear Fish. Her mother, Hannah Leavitt, was born at St. Johnsborough, Vermont, 26 Dec. 1805.
Horace and Hannah were married 18 March 1824, and were the parents of six children. Horace and Hannah lived with his parents in Canada for some time. He finally cut trees and cleared land for a home and sawmill. This was where Sarah spent her young life. During the year 1835-36, Mormon Elders visited this area. Sarah's mother Hannah was baptized [into the Mormon faith] in 1836 along with many of the Leavitts. Horace had never belonged to any religious denomination, and did not join the Church at this time. However, he took his wife and family as well as his mother and prepared to gather with the saints. The Leavitt family was among this group of saints.
On July 20, 1837 (when Sarah was near 9 years old) this company left Hatley, Quebec, Canada, traveling through Vermont, New York, along the shores of the Great Lakes, and other places along this route. The company arrived in Joliet, Illinois. They purchased land here and had good crops and plenty of wild life and fish to eat. Some of the party remained there and didn't continue on with the others. It was here that Sarah's father was baptized, in September 1839. Sarah was probably baptized about the same time.
The company had arrived at Joliet, Illinois, 19 Sep 1837. The Fish land and temporary home was at Twelve Mile Grove, about twelve miles from Joliet.
In Sep 1840 the Fish family left twelve Mile Grove to move to Nauvoo. Things were good for the first two of three years. It was here that Sarah came in contact with the first persecutions they were called to endure. She experienced much sorrow and heartache with the conditions of all the saints. The people were busy preparing for the exodus to the mountains. Before leaving the city, Sarah's father made a wagon to haul out their few belongings. The only iron in it was the tires. He had to hire a team to take them across the river to Sugar Creek, nine miles westward. They crossed the river 23 May 1846.
Before the Fish family left Nauvoo, Sarah was married to John Calvin Lazell Smith (probably 6 Feb. 1836). He was a school teacher from the eastern states (probably Massacusetts). Smith managed to get a yoke of two-year [old] steers, and the only team he had. He successfully took these through to Utah and later to Iron County.
Horace Fish hired a team to move the family to the Des Moins River. Sarah and her husband went there also. They remained there during the winter of 1846-47. Hunger and need were their lot. Horace had finally bought a team of oxen and J.C.L. Smith and Sarah still driving his little white steers, they left their camp near Farmington, 8 May 1847 and made their way to the Missouri River, arriving at Council Point May 23, some distance above Trading Point and about four miles from Council Bluffs, then called Kanesville, Iowa. The Fish people lived here about three years before they could continue west.
During the winter of 1847-48 J.C.L. Smith taught school. In the spring he and Sarah, with a scanty outfit, started for the valley of the Great Salt Lake, with their little white steers. They arrived there in the fall of 1848, in safety.
J.C.L. sent help to the Fish family and with what Horace had gathered together, they left for the West on 29 May 1850 in the Milo Andrus company. They reached Bear River Aug. 22. A few days before they arrived in the valley, J.C.L., his wife Sarah and their little son Horace Calvin, who had been born after reaching Utah, came out to meet them. They brought melons and vegetables, which were much appreciated, for the company had had none to speak of for near a year.
Sarah and husband helped their family into Centerville ahead of the rest of the Company. Smith had secured twenty five acres of land for Sarah's father. (The above is from the Joseph Fish Autobiography.)
J.C.L. had taught school in Centerville during 1849-50 and signed up to teach in 1850-51. A call came for him to go with the Iron Mission Saints, to Parowan, in the fall of 1850. He hired George Leavitt and his sister Emaline, to take his place until he taught school that winter.
In the spring of 1851, Sarah had a baby girl, born 16 March 1851 (just a short time before they moved south). As soon as school was out he and Sarah went to Parowan to fill his call. They arrived there 9 May 1851 (about two months after Sarah Jane was born and four months after Parowan was settled.)
John Calvin was not well during the trip, so Sarah drove the little white steers with Horace sitting beside her on the seat and Sarah Jane in her arms. Her husband rode in the back. He was ill most of the way, Probably with after effects of malaria he had had on their way from Nauvoo.
As soon as the Smith's arrived in Parowan they became an active part of the community, both in a civic and a religious capacity. Sarah was active as a nurse and midwife and did much to help out in sickness. She was a good mother and wife. When her husband was Stake President she was called on for many things such as caring for visiting authorities, and friends and neighbors from out of town. She was a kindly neighbor and exchanged flour for yeast, or yeast for flour with her neighbors.
About 1852 (I think) Grandma Smith took a little Navajo Indian girl into her home. This is the story as told me by Barbara M. Adams.
"One night in the early 50's, a group of Indians came into the fort and made camp in the street close to President John Calvin Lazelle Smith's home, just east of the George A. Smith home. They made a campfire and ate their supper, then they began to quarrel and make quite a noise. Sarah Fish Smith listened to them for a while, then decided to go out to see what the trouble was about. Sister Smith said she had never known what was to fear, so she went out to try and pacify them. They were quarreling over a little Indian girl, that they had stolen from a Navajo tribe. (one report said one Indian had her by both feet ready to mash her head against a tree). Sarah asked to let her have the little girl. They wanted to know what she would give them for her. She offered them a blanket, then a horse but they refused both of them, so she went into the house and took one of Calvin"s (her husband) guns and offered it to them. The Chief or leader agreed to the trade, so she took the poor girl into her home and raised her as one of her own."
The little girl Jeanette (or Janet) grew to be a fine woman. She married Dudley Leavitt, as his fourth wife. She spent the rest of her life in Washington County and northern Nevada. They were the parents of eleven children. She was married in the spring of 1860 in the living room of the Smith McGregor home.
Sarah Fish and J.C.L. Smith had four children. Horace Calvin born in Centerville, Utah 26 Mar 1849, married (1) Elizabeth Miller, and (2) Elizabeth Ann Benson. He died 5 Nov 1876. Sarah Jane Smith (my grandmother) born 16 March 1851 in Centerville, Utah. Married Allen Miller. She died 7 May 1915. Nancy Francetta Smith, born 4 May 1853 in Parowan, Utah, married John Lowe Butler II and died 21 Apr 1913. John Lazell was born 6 Jul 1855 and died in 1889.
Sarah's husband, John Calvin Lazell Smith, died in Parowan, Utah 30 Dec 1855 and was buried there 1 Jan 1856. She married William Cambell McGregor 29 Apr 1857. Sister McGregor was an angel of mercy in disguise. She was very thoughtful and considerate of the poor. Very few days ever passed without giving fruit, meat, potatoes, milk, butter or eggs to someone in need. A widow's children heard to say "We'll have meat today - the McGregor's have killed a pig." She came at night so many times with a bundle under her arm and a bucket of milk for the "wee ones". Sometimes there would be a pat of butter on top of the milk. She couldn't do enough for the people who had helped Brother McGregor when was in Scotland on a mission. (from Barbara M. Adams stories)
The McGregor family had at least 6 children. Adelbert Fish [McGregor] married Ada Dalton and after her death Grandmother Smith McGregor raised their three daughters Della, Ada, and Stella. Joseph Franklin married Lena Isabella Durham. He became a doctor and they had a large family. He died in the 1950's in Salt Lake City, Utah. Julia married William Lyman and had a large family. She died in Parowan, Utah. Donald Alpine married (1) Alma Watson and (2) Bertha Watson. He had quite a number of children. He was a wonderful doctor, and died in St. George, Utah.
I remember seeing grandma McGregor once. She came to Panguitch with her doctor son, Joseph. He brought her in his little black buggy. She stayed with her daughter (my Grandmother Miller) Sarah Jane. He came to take care of my mother who had blood poison at the time of the birth of my sister Bergetta. That was in August 1904. Grandma McGregor was visited many times by her children and grandchildren. They all loved her.
We, as descendants of Sarah and John Calvin, are proud of our heritage and proud to belong to this family.
Source: Miscellaneous personal histories This information has been gathered by various people interested in Utah history. These are unpublished biographies.