Historical Pioneer Biographies
Edwin Alfred Pettit
Born: 1834 Died: 1924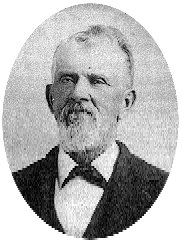 Children's Story: Edwin was orphaned at the age of eight while his parents were living in Nauvoo. He plotted an escape from his guardian so he could join his sister and her husband who were headed west. He was 13 when he made the journey.
Biography: © 1994 Deseret Book Company. All rights reserved.
Edwin was orphaned at the age of eight while his parents were living in Nauvoo. He plotted an escape from his guardian so he could join his sister and her husband who were headed west.
Born: February 16, 1834, Hempstead, Queens, New York
Parents: Jesse and Mary Pettit Pettit
* 1847: Edward Hunter Company
Age at time of journey: 13
*Edwin's mother's maiden name was also Pettit. While the Pettit family was living in Nauvoo, Illinois, the parents died within two weeks of each other in 1842, leaving Edwin and his siblings to be cared for by a court-appointed guardian.
In February, 1846, the people began leaving Nauvoo for the West, and my sister and her husband decided to go with them. I was given to understand that if I wished to go West, there would be a way provided for me. I wanted to go with my sister, but the rest of the children opposed my going, as did also my guardian.
A man was sent from the Mormon camp to pilot me to the camp of my sister, which was some miles away. This young man took me to the camp; but my guardian and brothers followed me and took me back on horseback. I didn't get to see my sister as they overtook me before I reached her.
In a short time there was another man who made his appearance in the neighborhood on the same errand, a man that I was acquainted with. We made an appointment to meet at a certain place and make our escape if possible. I got up very early in the morning and went downstairs with my shoes in my hands. My guardian was dozing in his chair as I slipped out unknown to him, and put my shoes on outside. I soon fell in with my friend, and we tramped all day without anything to eat to reach the spot where I was to join my sister. Instead of going into camp, I lay out in the prairie all night alone. The captain of this company called the people together and told them if there was anybody inquiring for a boy to tell them there was no such boy in camp-I was not in the camp at this time; I was staying out in the prairie. The parties came hunting for me again but failed to find me.
Disguised as a girl, and in company with four or five girls, I crossed the Des Moines River on a flat boat, the boatman being none the wiser, supposing I was a girl with the rest. I was wearing side combs in my hair, and false curls covered my head. I was also wearing a sunbonnet in order to make my disguise more complete.
On landing on the opposite side of the river, I met an old friend on horseback, and he took me on behind him. As is well-known, girls are supposed to ride sidewise, especially where there are a great many people to observe them, and I also took that precaution. In going along the road, the people would sometimes holler out, "Old man, that girl will fall-she's asleep," because I was trying to hide my face. He turned around and said, "Mary Ann, wake up. You'll fall off and break your neck." I at last reached my sister's camp, near a place called Indian Creek.
In the spring of 1847 we moved camp and passed through Winter Quarters, where the main part of the Saints had been camped all winter. All the companies were organized into companies of hundreds, fifties, and tens, with a captain over each.
Fuel was very scarce most of the time, and when we wanted a fire, everyone would go out to gather buffalo chips, and some of the daintier sex, instead of picking them up with their hands, used tongs to gather them with. Before we had gone very far, they got very bravely over this, and would almost fight over a dry one. We could see buffalo as thick as the leaves on the trees for miles around. We had a great deal of trouble from the buffalo, having to scare them away with guns in order to make a passage.
In the latter part of the journey, when our cattle began to get tired and footsore, sometimes lying down, it was a difficult matter to get them on their feet again.
After a journey of about four or five months, we reached Salt Lake on the 29th day of September, 1847. We joined some of the immigrants on what is now known as Pioneer Square. It was then surrounded by a high mud wall as a protection against the Indians, with portholes on all sides and a large gate on each side. I lived near the northwest corner of the square, where my brother-in-law and sister and myself had two houses of one room each. Many a time we have stood with an umbrella over the table to keep the water from coming through on our food, and tin pans set over the bed to catch the water that dripped through the mud roof.
Edwin Pettit was heavily involved in freighting and in helping immigrants coming to Utah from California, where he had settled in 1851. While assisting others, he crossed the Nevada desert seventeen times by team and three times by rail. He married Maria Pettit Bush, a widow with two sons, and they had one daughter. After her death, he married Rebecca Hood Hill, and they became the parents of fourteen children. Edwin died April 17, 1924, in Salt Lake City, Utah.
Source: Edwin Pettit. Biography of Edwin Pettit 1834-1912, 6-10. Salt Lake City: The Arrow Press, 1912.
pp. 71-73 I Walked to Zion: True Stories of Young Pioneers on the Mormon Trail.
Source: I Walked to Zion: True Stories of Young Pioneers on the Mormon Trail © Susan Arrington Madsen. All rights reserved. No part of this book may be reproduced in any form or by any means without permission in writing from the publisher. http://deseretbook.com ISBN 0-87579-848-9