Historical Pioneer Biographies
John Stettler Stucki
Born: 1850 Died: 1933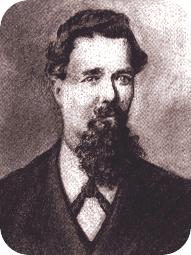 Children's Story: At the age of nine, John traveled west with a handcart company in 1860. He endured hunger and fatigue and experienced a special kind of love from his father.
Biography: © 1994 Deseret Book Company. All rights reserved.
Born: December 13, 1850, Heirstetten, Bern, Switzerland
Parents: Samuel and Magdalena Stettler Stucki
1860: Oscar O. Stoddard Handcart Company
Age at time of journey: 9
My dear mother had a little baby to nurse, and only having half enough to eat and to pull on the handcart all day long, day after day, she soon got so weak and worn out that she could not help Father anymore. Nor was she able to keep up with the Company. Sometimes when we camped, she was so far behind the Company we could not see anything of her for quite a while, so that I was afraid she might not be able to get to the camp.
I have never forgotten how when I, a nine-year-old boy, would be so tired that I would wish I could sit down for just a few minutes. How much good it would do to me. But instead of that, my dear, nearly worn-out father would ask me if I could not push a little more on the handcart.
When one of the teamsters, seeing two buffaloes near the oxen, shot one of them, the meat was divided among the whole handcart company. My parents also got a small piece, which my father put in the back end of the handcart. That was in the fore part of the week. Father said we would save it for our dinner next Sunday. I was so very hungry all the time, and the meat smelled so good to me while pushing at the handcart, and having a little pocketknife, I could not resist but had to cut off a piece or two each half day. Although I was afraid of getting a severe whipping after cutting a little the first few times, I could not resist taking a little each half day. I would chew it so long it got tasteless.
When father went to get the meat on Sunday noon, he asked me if I had been cutting off some of it. I said, "Yes, I was so hungry that I could not let it alone." Then, instead of giving me the severe scolding or whipping, he did not say a word but started to wipe the tears from his eyes.
The Stucki family settled with other Swiss Saints in Santa Clara, Utah, in 1861. As a young boy, John helped build the St. George Temple. He married Barbara Baumann, Karolina Heimberg, and Louise Reichenbach. John was the father of twenty-four children, eight of whom were adopted. He was called on a mission to Switzerland, where he served as conference president. After returning home, he taught religion classes. John died March 26, 1933, in Santa Clara, Washington County, Utah.
Source: Family History Journal of John S. Stucki, 7, 18-21, 40-46. Salt Lake City: Pyramid Press, 1932. A typescript of the original journal is in the Harold B. Lee Library, Brigham Young University, Provo, Utah.
pp 53-55 I Walked to Zion: True Stories of Young Pioneers on the Mormon Trail.
Source: I Walked to Zion: True Stories of Young Pioneers on the Mormon Trail © Susan Arrington Madsen. All rights reserved. No part of this book may be reproduced in any form or by any means without permission in writing from the publisher. http://deseretbook.com ISBN 0-87579-848-9