Historical Pioneer Biographies
Samuel Brannan
Born: 1819 Died: 1889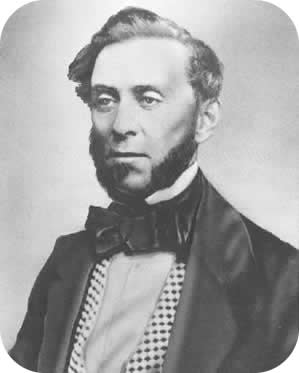 Led emigration from New York to California on ship "Brooklyn".He tried to convince Brigham Young to have the Mormon Pioneers settle in California.
Biography: Samuel Brannan, son of Thomas and Sarah Emery Brannan, was born in Saco, York county, Maine March 2, 1819. He started his adventuring early pushing into the wilds of Ohio where, at the age of seventeen, he purchased his time from a printer to whom he had been bound out and became a traveling printer and journalist. A publication failed him in New Orleans and another in Indianapolis. While living near Kirtland, Ohio at the home of his sister Mary Ann, thirteen years his senior, and her husband Alexander Badlam, who were devout members of the Latter-day Saint Church, he attended some of their meetings and was privileged to hear Joseph Smith, the Mormon Prophet, speak. During this time he became acquainted with Harriet Hatch and after a short courtship they were married by Joseph Smith. One child was born of this union, but the marriage proved `unhappy and soon ended in a separation.
In the early 1840's, Samuel went to New York where he became associated with William Smith, brother of the Prophet and shortly thereafter was baptized a member of the Latter-day Saint Church by him. Soon he began the publication of a Church paper known as The Prophet. It was at this period in his life that he met Ann Elizabeth Corwin, daughter of Fanny Corwin, who later became his second wife.
After the death of the Prophet, when men were divided in their opinions as to who should be the leader of the Church, Brannan supported William Smith's claim for which he was disfellowshipped. But later he made a trip from New York to Nauvoo, Illinois where he asked to be reinstated. After an inquiry as to his beliefs and his loyalty to the Church under the leadership of Brigham Young, he regained his former status. Brannan then returned to New York assigned to work with Apostles Parley P. and Orson Pratt. He was also ordered to go forth with a publication expounding the principles of Mormonism which was called The Messenger.
Apostle Orson Pratt having received word that he must return to Nauvoo, Illinois, bid the Eastern Saints farewell on the 12th of November, 1845, explained the circumstances in Nauvoo and stated:: "Elder Samuel Brannan is hereby appointed to preside over and take charge of the company that goes by sea [ship "Brooklyn"], and all who go with him will be required to give strict heed to his instructions and counsel. They should go as soon as possible."
Source: Our Pioneer Heritage © Carter, Kate B., ed. 20 vols. Salt Lake City: International Society, Daughters of Utah Pioneers, 1958-1977. All rights reserved. No part of this material may be reproduced in any form or by any means without permission in writing from the publisher. Documents and images are exerpted by permission from the LDS Family History Suite CDROM from Ancestry.