Historical Pioneer Biographies
Margaret McNeil (Ballard)
Born: 1846 Died: 1918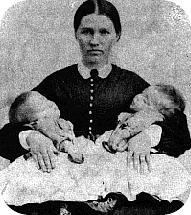 Children's Story: Margaret was thirteen when she crossed the plains in 1859. She showed responsibility and courage beyond her years as she traveled alone for some time while caring for her four year old brother who was recovering from measles.
Biography:
© 1994 Deseret Book Company. All rights reserved.
Born: April 14, 1846, Tranent, East Lothian, Scotland
Parents: Thomas and Janet Reid McNeil
1859: John McNeil "Independent" Company
Age at the time of journey: 13
In the above photograph, Margaret Ballard is holding her twins.
The first ten years of my life were spent in Tranent, Scotland. Because of being a "Mormon," I was not permitted to attend the schools, and so I was entirely deprived of schooling while in the old country. My father was a coal miner and had to be to work every morning at four a.m. Therefore, when I was baptized, I had to go very early in the morning. It was a beautiful May morning when I walked to the seashore. We carried a lantern to light our way. As I came up out of the water, day was just beginning to dawn, and the light to creep up over the eastern hills. It was a beautiful sight. That night the Saints met at our house, and I was confirmed a member of the Church.
On April 27, 1856, we left Liverpool, England, for America. There was a large company leaving. My mother was not well and was taken on board ship before the time of sailing, while the sailors were still disinfecting and renovating the ship. Here my brother Charles was born, with only one woman on board to attend to my mother.
When the captain and doctor came on board the ship and found that a baby had been born, they were delighted and thought it would bring good luck to the company. They asked the privilege of naming him. Brother James G. Willie, president of the company, thought it best to let the captain name him as there were three hundred passengers and nearly all of them were Mormons, so he was named Charles Collins Thornton McNeil, after the ship Thornton and Captain Charles Collins.
We were six weeks on the voyage. We landed at Castle Garden, New York. We were planning to go to Utah with the handcart company, but Franklin D. Richards counseled my father not to go in that company, for which we were afterwards thankful because of the great suffering and privations, and cold weather which these people were subject to. There were many of the company who were frozen that year on the plains. They made their first stop in St. Louis, Missouri, and later, with other Saints, assisted in settling a place called Genoa, which was one hundred miles west of present-day Omaha, Nebraska. Along the way, the McNeils' team, which consisted of unbroken five-year-old oxen, ran away, and they were delayed.
The company had gone ahead, and my mother was anxious to have me go with them; so she strapped my little brother, James, on my back with a shawl. He was only four years old and was still quite sick with the measles. Mother had all she could do to care for the other children, so I hurried on and caught up with the company.
I traveled with them all day, and that night a kind lady helped me take my brother off my back. I sat up and held him in my lap with a shawl wrapped around him, alone all night. We traveled this way for about a week, my brother and I not seeing our mother during this time. Each morning one of the men would write a note and put it in the slit of a willow stuck in the ground to tell how we were getting along. The people in the camp were very good to us and gave us a little fried bacon and some bread for breakfast. Soon our family was reunited and began our trek across the plains in 1859. While crossing the plains, my mother's health was very poor, so I tried to assist her as much as I could. Every morning I would rise early and get breakfast for the family and milk my cow so that I could hurry and drive her on ahead of the company. Then I would let her eat in all the grassy places until the company had passed on ahead, when I would hurry and catch up with them. The cow furnished us with milk, our chief source of food, and it was very important to see that she was fed as well as circumstances would permit. Had it not been for the milk, we would have starved.
Being alone much of the time, I had to get across the rivers the best I could. Our cow was a Jersey and had a long tail. When it was necessary to cross a river, I would wind the end of the cow's tail around my hand and swim across with her. At the end of each day's journey I would milk her and help prepare our supper and then would be glad to go to sleep wherever my bed happened to be. Our food gave out, and we had nothing but milk and wild rose berries to eat. However, we had a good team and could travel fast.
One night our cow ran away from camp, and I was sent to bring her back. I was not watching where I was going and was barefooted. All of a sudden I began to feel I was walking on something soft. I looked down to see what it could be, and to my horror found that I was standing in a bed of snakes, large ones and small ones. At the sight of them I became so weak I could scarcely move; all I could think of was to pray, and in some way I jumped out of them. The Lord blessed and cared for me.
We arrived in Ogden, Utah, on the fourth day of October, after a journey of hardships and hunger, with thankfulness to our Heavenly Father for his protecting care. I walked every step of the way across the plains and drove a cow, and a large part of the way I carried my brother, James, on my back.
We camped on the outskirts of town while Father went on into Ogden to find work. Across the field from where we were was a little house, and out in the yard was a big pile of squash. We were all nearly starved to death. My mother sent me over to this place to beg a squash, for we did not have a cent of money, and some of the children were very weak for the want of food. I knocked at the door, and an old lady came and said, "Come in, come in, I knew you were coming and have been told to give you food." She gave me a large loaf of fresh bread and said to tell my mother that she would come over soon. It was not long until she came and brought us a nice cooked dinner, something we had not had for a long time. The woman was surely inspired of the Lord to help us, and we were indeed grateful for her kindness.
Margaret McNeil settled in Cache Valley, Utah, where she married Henry Ballard. She became the mother of eleven children and was a Relief Society president for thirty years. Her husband was bishop for thirty-nine years. One of their sons, Melvin J. Ballard, was called to the Quorum of the Twelve Apostles in 1919, one year after Margaret died. Her great-grandson is Elder M. Russell Ballard, a member of the Quorum of the Twelve Apostles.
Sources: Margaret McNeil Ballard. Autobiography. In Our Pioneer Heritage, 3:199-206. Also, interview in Utah Pioneer Biographies, 4:49-50. A fifty-nine-page photocopy of the transcript is in the Harold B. Lee Library, Brigham Young University, Provo, Utah.
pp. 124-127 I Walked to Zion: True Stories of Young Pioneers on the Mormon Trail.
Source: I Walked to Zion: True Stories of Young Pioneers on the Mormon Trail © Susan Arrington Madsen. All rights reserved. No part of this book may be reproduced in any form or by any means without permission in writing from the publisher. http://deseretbook.com ISBN 0-87579-848-9