Historical Pioneer Biographies
George Sudbury Humphreys
Born: 1842 Died: 1922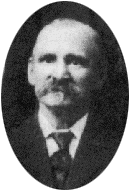 Children's Story: George helped drive a team in 1861 at the age of nineteen. He learned the importance of positive attitude and clear thinking when the captain had to deal with a band of demanding Indians.
Biography:
© 1994 Deseret Book Company. All rights reserved.
Born: April 19, 1842, Nottingham, Nottinghamshire, England
Parents: Thomas and Mary Sudbury Humpherys
1861: James Clayton Wagon Train
Age at time of journey: 19
In the above photograph, George Humpherys is seated at center, surrounded by his brothers and sisters.
I was talking to the assistant wagon master and driving the lead team, when we heard a terrible yell. We looked up the road and saw a large band of Indians coming towards us.
They were very modest in their request, for they demanded 10 yoke of oxen, 1000 lbs. of flour, 300 lbs. sugar, 100 lbs. coffee, and 100 lbs. bacon. If we wouldn't give it to them, we would have to fight and they would take what they wanted. There was between three and four hundred Indians. Some of the men wanted to fight it out with them, but our wagon master, Mr. James Clayton, would not hear of that if there was any other way to get along with them. He told us to prepare for the worst, for we may have to fight, but he would do all he could to avoid it.
After talking to them for some time, he thought of the man in our group with smallpox. He told the chief to go with him to the wagon where the sick man lay. A number of the Indians followed their chief, thinking they were going to get all they asked for.
But when they got within twenty-five yards of the wagon, Mr. Clayton called to the sick man to look out of the wagon for he wanted to see him. He arose and looked out. The scales were just falling off his face. The chief gave a look and said, "Smallpox!" He turned his horse and yelled for his men to follow, and they did so. It was almost two miles to the Platte River, and they rode as fast as they could till they got there. Then they crossed and looked around for a few minutes, then rode off again. Mr. Clayton was watching them through a large glass.
We could not get sight of an Indian for three weeks after that. We had to conclude that smallpox was a very good thing to have close by.
George Humpherys, who came to Utah in 1856, served a mission to Great Britain, 1896-98. He married Sarah Ann Eaton in 1864, and they had ten children. They lived in Paris, Idaho, where he was known to be friendly, to have a clever wit, and to be an excellent gardener. He died May 19, 1922, at the age of eighty.
Source: George Humpherys. Autobiographical sketch, holograph. LDS Church Archives.
pp.74-75 I Walked to Zion: True Stories of Young Pioneers on the Mormon Trail.
Source: I Walked to Zion: True Stories of Young Pioneers on the Mormon Trail © Susan Arrington Madsen. All rights reserved. No part of this book may be reproduced in any form or by any means without permission in writing from the publisher. http://deseretbook.com ISBN 0-87579-848-9