Historical Pioneer Biographies
Mary Jane Mount (Tanner)
Born: 1837 Died: 1890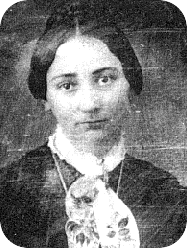 Children's Story: Mary came to Zion in 1847 at the age of ten. She had creative ways of amusing herself along the way.
Biography:
© 1994 Deseret Book Company. All rights reserved.
Born: February 27, 1837, Toledo, Lucas, Ohio
Parents: Joseph and Elizabeth Bessac Mount
1847: Abraham O. Smoot Company
Age at time of journey: 10
I think I shall never forget that long lonely day after leaving Nauvoo, Illinois, waiting on that vast, undulating prairie that stretched as far as the eye could reach, covered with grass and flowers. It must have been a lovely scene that bright spring morning, but I hardly think it was properly appreciated by the little band who were so bravely leaving home, friends, country, and kindred to take their toilsome march across the Rocky Mountains.
The oxen were detached from the wagons and feeding lazily among the green grass, knowing nothing of the future that lay before them, or that before many months their bones would, many of them, whiten on the desert sands. My childish heart knew as little as they of the hardship that lay before us. My pale, delicate mother watched the teams while my father busied himself assisting or counseling those who were starting out. No doubt her heart failed her on that long weary day as she sat in the bright spring sunshine, watching the shadows and thinking of all she was leaving behind and wondering what the future held in store for her.
I used to see other children running along barefooted and thought it would be nice to take my shoes off too. But my feet were not accustomed to such rough usage, and I was generally glad to put them on again. One day while trying the experiment, I wandered a little way from the road and, getting among a bed of prickly pears, was obliged to sit down and take care of my feet while some of the children went to the wagon for my shoes. As the wagons kept traveling on, this threw me some distance behind our team, and I was considerably fatigued by the time I caught up. I think this must have cured me of the desire to go barefooted.
There were a great many ant hills along the road raised to a considerable height, where we often found beads which were, no doubt, lost by the Indians and collected by those indefatigable little workers along with the gravel of which their mounds were composed. If we were hardy enough to risk a bite now and then, we found much amusement in searching for the beads to string into necklaces.
Another favorite pastime consisted of walking far enough ahead of the train to get a little time to play, when we would drive the huge crickets-large, unwieldy insects, if they could be called such-that abounded in some sections of the country, and build corrals of sand or rocks to put them in, calling them our cattle.
Halfway through the Mounts' journey, the young boy hired to drive their wagon returned to Winter Quarters, leaving Mary's mother, Elizabeth, to drive the team.
Mother drove the team the rest of the way, yoking and unyoking in addition to her other duties. One of her oxen would never learn to hold back, and when going downhill she had to hold his horn with one hand and pound his nose with the other to keep him from running into the wagon ahead of him, a feat which would astonish some of our belles of the present day, and yet she was reared as tenderly and as little accustomed to hardship as any of them. Many times the bushes caught her dress, and she had no choice but to rush on, leaving it in pieces behind her. I wonder if those coming after her knew what those tattered rags meant.
We arrived in Salt Lake Valley in late September, 1847. The valley presented a barren aspect; it was covered mostly with sagebrush and sunflowers, with a few small streams of water running through it and some squalid Indian wigwams scattered about.
Mary Jane Mount married Myron Tanner in 1856, and they lived in Peteetneet, afterwards known as Payson, Utah. They became parents of nine children. Mary Jane loved writing and wrote articles for the Woman's Exponent. She fulfilled a lifelong dream when she published a collection of her poetry, Fugitive Poems, in 1880. She served as a Relief Society president in Provo for twenty-two years. She died January 8, 1890, at the age of fifty-three. She was the grandmother of prominent Utah philanthropist Obert C. Tanner.
Sources: Mary Jane Mount Tanner. Autobiography; Reminiscences and Diary. LDS Church Archives.
pp.111-113 I Walked to Zion: True Stories of Young Pioneers on the Mormon Trail.
Source: I Walked to Zion: True Stories of Young Pioneers on the Mormon Trail © Susan Arrington Madsen. All rights reserved. No part of this book may be reproduced in any form or by any means without permission in writing from the publisher. http://deseretbook.com ISBN 0-87579-848-9