Historical Pioneer Biographies
James Armitstead
Born: 1821 Died: 1905
He and his family emigrated to Salt Lake in 1853.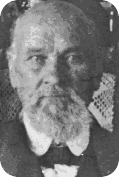 Image courtesy of: Heritage Gateway Project Images, These images have been gathered to support the Sesquicentennial celebration of the immigration to Utah.
Biography: James Armitstead, son of Thomas Armitstead and Margaret Rawlinson, was born 22 June 1821 at Bentham, Yorkshire, England. He married Mary Coupe on 21 May 1843, Blackburn, Lancashire, England. Mary was born 24 December 1821, Haslingden Grane, Civil Parish of Whalley, Lancashire, England, daughter of James Coupe and Ann Holden. James and Mary Coupe Armitstead were parents of 9 children.
The family (James, Mary and 2 children) emigrated from Liverpool aboard the ship "Ellen," 8 Jan 1851, and arrived at New Orleans, 15 Mar 1851. The younger of the children died near St. Louis at the end of their voyage up the Mississippi. A third child was born aboard the river steamer six days prior to her brother's death. They arrived in Salt Lake City, 17 September 1853, in Cyrus H. Wheelock wagon company and became permanently settled at Pleasant Grove in 1856.
James Armitstead was a veterinarian, physician, lawyer, teacher, justice of the peace, school trustee, and city councilman. He filled two LDS missions to La Salle County, Illinois (1852 and 1876-77).
He died 13 November 1905 at Pleasant Grove, and is buried in Pleasant Grove City Cemetery. Mary died 10 February 1901 at Pleasant Grove, Utah, and in also buried there.
Source: James Armitstead Letters (1853)