Pioneer Student Work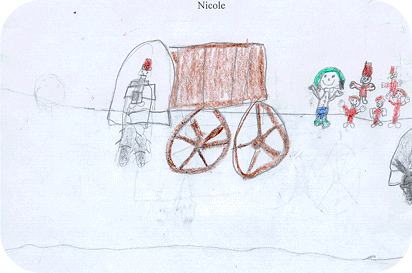 Description:
4th Grade Nicole's picture to accompany her report on pioneer Aurelia Read Spencer.
Image courtesy of:
Heritage Gateway Project Images, These images have been gathered to support the Sesquicentennial celebration of the immigration to Utah.
Pioneer: Aurelia Read Spencer (Nicole- 4th Grade)
Aurelia Spencer was born October 4, 1834, in Deep River, Middlesex, Connecticut. At the age of 13 she took charge of five youger brothers and sisters while crossing the plains. They left Winter Quarters in May, 1848, traveling to the Salt Lake Valley with Brigham Young's second company. She came without parents because her father was serving a mission in England and her mother had died. Aurelia latter married Thomas Rogers. They lived in Farmington, Utah, and became the parents of twelve children. Aurelia suggested and helped found an organization for the children of the Mormon Church. It was called "Primary" and is still used today. I think Aurelia had the pioneer spirit of adventure, courage, and self-reliance when she crossed the plains. She did many other important things in her life.