Pioneer Student Work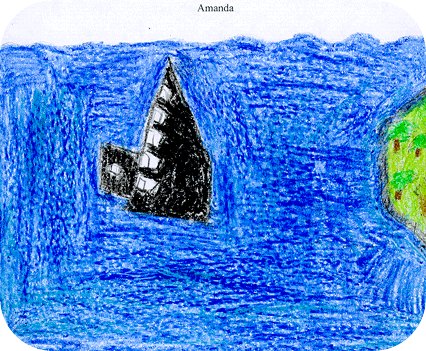 Description:
4th Grade Amanda's picture to accompany her report on pioneers the Sullivan Brothers.
Image courtesy of:
Heritage Gateway Project Images, These images have been gathered to support the Sesquicentennial celebration of the immigration to Utah.
Pioneer: The Sullivan Brothers (Amanda - 4th Grade)
My pioneer heroes are the Sullivan Brothers who were my ancestors. They fought for their country in World War II. Their names were Joseph, Francis, Albert, Madison, and George. They were all stationed on the same war ship. On November 13, at 12:00 p.m., the ship was bombed by the Japanese enemy near the island of Guadalcanal. By 8:00 p.m. the ship sank with the five brothers onboard. The Sullivans had the pioneer spirit of adventure, courage, and sacrifice. The government passed a law called "the Sullivan Act," designed so that no two brothers would have to serve active duty in the same location. These men gave their life for their country, but made it possible so that no other families would have to lose so many members in one war.