Pioneer Date Summary
04/08/1847 - Crockett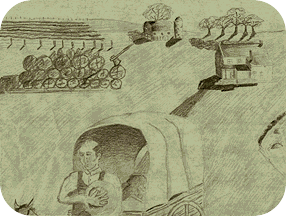 Description:
Line drawing by Brandon, a ninth grader from Central Davis Junior High.
Image courtesy of:
Heritage Gateway Project Images, These images have been gathered to support the Sesquicentennial celebration of the immigration to Utah.
Date: April 8, 1847
Pioneer Camp on Little Papillion Creek:
Wilford Woodruff noted history when the first game was killed in the camp of the pioneers -- a squirrel. He proposed that since it was the first fruits of the journey, that it be presented to Brigham Young for breakfast, which it was. Lorenzo Dow Young's family arrived at the camp. They visited with Charles and Vilate Decker, Lucy Decker Young and Margaret Pierce Young. Thomas Bullock arrived in camp in the morning and counted three carriages and twenty-eight wagons.
Brigham Young and Isaac Morley left for Summer Quarters. Wilford Woodruff and several others spent the day hunting. He noted that they "caught nothing but weary limbs & wet feet."
Brigham Young and his company returned from Summer Quarters in the late afternoon. Young fourteen-year-old Rodney Swasey (the boy who had been hung by his heels by a mob near Farmington, Iowa, see March 9, 1847) received news that his step-father and mother had been freed from prison by the mob. He wished to return to them instead of going with the pioneers. John D. Lee agreed to let Thomas Woolsey take his place. Amasa Lyman had brought word that Parley P. Pratt had returned to Winter Quarters from his mission. Brigham Young, Orson Pratt, John Young, Amasa Lyman, Isaac Morley, and others left for Winter Quarters and arrived by sunset.
When Wilford Woodruff returned to the camp from hunting, the evening, he received word that the rest of the Twelve had headed back on horses to Winter Quarters. It was too late for Elder Woodruff to make the trip that night.
Summer Quarters, Nebraska:
At about noon, Brigham Young and Isaac Morley arrived with George D. Grant, Charles Kennedy, John Young, Joseph Young, and President Young's son. They were pleased with the farm location that was chosen. President Young and his brother John laid down for awhile to rest after the long ride and then arose to a great meal. President Young gave some instructions regarding the assignment of lots and then invited John D. Lee to return to Winter Quarters with him to help Thomas Woolsey fit out for the pioneer journey. They left at 2:40 p.m., and returned to the pioneer camp.
Camp at the Haystacks:
Howard Egan arrived at Heber C. Kimball's camp at the haystacks, about three miles east of Winter Quarters. Horace K. and Orson F. Whitney also arrived at this camp, accompanied by Heber C. Kimball and his wife, Ellen. Soon, Orrin Porter Rockwell arrived on horseback with news that Parley P. Pratt had arrived home from England. Brother Egan traveled back to Winter Quarters with Heber C. Kimball, Ellen Kimball, Newel K. Whitney, and Horace K. Whitney.
Winter Quarters, Nebraska:
In the morning, Erastus Snow, ready to leave his family, called them together and "dedicated them to the Lord." He encouraged them to follow the promptings of the Holy Spirit and to pray always. He laid his hands on his children and blessed them, beginning with the youngest, three-month-old Mahonri, and ending with his oldest daughter, six year old Sarah. He administered to his wife Artimesia, who was ill and then committed his family into the care of Caleb Edwards. Brother Snow then joined James Craig to journey to the pioneer camp. They arrived that evening, just as the Twelve and others were returning to Winter Quarters on horseback. Brother Snow joined them in returning to the city.
Parley P. Pratt returned home from his mission in England at noon. During the past few days he had been cared for each night by many Saints as he made the final leg of his journey from Mount Pisgah. Elder Pratt wrote: "I crossed over the ferry at noon of a fine April day, and came suddenly upon my friends and family. . . . I found my family all alive, and dwelling in a log cabin. They had, however suffered much from cold, hunger and sickness. . . . One of the family was then lying very sick with scurvy. . . . I found, on inquiry, that the winter had been very severe, the snow deep, and consequently, that all my horses (four in number) were lost." He also only had seven cows left and four oxen.
In the evening, the Twelve returned to meet with Elder Pratt. He gave a report of his mission at Willard Richard's office. Heber C. Kimball recorded his warm feelings on this occasion: "It was a time of rejoicing with us to behold our beloved brother and companion in tribulation."
Elder Pratt reported the the British Mission had been set back in order and that he had collected tithing, 469 sovereigns in gold, from the British Saints. This money would would soon arrive with John Taylor along with astronomical and other instruments that would be useful to the pioneers. Parley P. Pratt recorded: "The President and Council seemed well pleased with our mission and management. They expressed an earnest wish for me to accompany them on the pioneer trip to the mountains; buy my circumstances seemed to forbid, and they did not press the matter." The Twelve decided by vote that the pioneers should move on from their camp seven miles out, to cross the Elk Horn River. The Twelve would return on next Tuesday to meet Elder Taylor and retrieve the instruments.
Mormon Battalion, at Los Angeles, California:
Teams were sent to retrieve seven more cannons from the San Gabriel Mission. Company B, Mormon Battalion, at San Diego, California:
In the afternoon, a signal was issued from the fort, announcing the arrival of the ship, "Barstable." It sailed in from San Francisco with 40 barrels of flour for company B. An express arrived from an Indian, with letters from Colonel Cooke and General Kearny, stating that the battalion should be paid soon and that they should receive full rations of flour when the ship arrived. The pay was desperately needed to buy clothing.
Sources:

Autobiography of Parley P. Pratt, 357-58
Wilford Woodruff's Journal, 3:146-47
Kelly, ed., Journals of John D. Lee, 1846-1847 and 1859, 145-46
Pioneering the West, 21
Erastus Snow Journal Excerpts, Improvement Era 14:633-34
Diary of Lorenzo Dow Young, Utah Historical Quarterly, 14:155
"Excerpts from the hitherto unpublished Journal of Horace K. Whitney," Improvement Era, 50:203
Jenson, Day By Day With the Utah Pioneers, 4
Orson F. Whitney, Life of Heber C. Kimball, p.364
Journal of Henry Standage in Frank Alfred Golder, The March of the Mormon Battalion, 217
The Journal of Robert S. Bliss, Utah Historical Quarterly, 4:90
Journal Extracts of Henry W. Bigler, Utah Historical Quarterly, 5:60
Private Journal of Thomas Dunn, 23
Source:
150 Years Ago Today
©These materials have been created by David R. Crockett. Copies of these materials may be reproduced for teacher and classroom use. When distributing these materials, credit must be given to David R. Crockett. These materials may not be published, in whole or part, or in any other format, without the written permission of Mr. Crockett, Tucson Az,
crockett@goodnet.com
.