Pioneer Date Summary
04/25/1847 - Crockett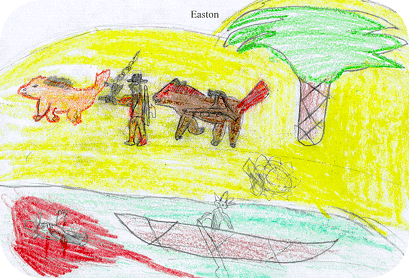 Description:
4th Grade Easton's picture to accompany his report on pioneer Orrin Porter Rockwell.
Image courtesy of:
Heritage Gateway Project Images, These images have been gathered to support the Sesquicentennial celebration of the immigration to Utah.
Location
: Fullerton, Nebraska - Location: 41:21:48N 97:58:08W Elevation: 1630 feet
Date: April 25, 1847
On the Loup Fork, Nebraska:
Since it was the Sabbath, the camp rested and an order was issued that there was to be no fishing or hunting. Only necessary labor was to be performed, such as tending the cattle. Thomas Bullock recorded: "All was harmony, peace, & love, and an holy stillness prevailed throughout the day. The principal sounds heard were the tinkling of cow bells & the screams of wild geese as they flew past our camp."
Wilford Woodruff was fascinated to see some antelope and elk for the first time in his life.
William Clayton wrote: "Afternoon Elijah Newman was baptized by Tarlton Lewis in the lake for the benefit of his health. Brother Newman has been afflicted with the black scurvy in his legs and has not been able to walk without sticks, but after being baptized and hands laid on him he returned to his wagon without any kind of help seemingly much better."
In the late afternoon, the camp was called together near Brigham Young's wagon. The meeting was opened by a choir singing, "This Land was Once a Garden Place." After a prayer offered by Heber C. Kimball, Erastus Snow remarked that he had never been more happy in his life, that he had no thoughts of turning back. James Case expressed similar feelings. George A. Smith spoke about Joseph Smith's teachings regarding the evil of killing animals just for the sake of destroying them. During his talk, a wolf walked boldly across the prairie near the camp. The irony of this event was felt by the men as they listened to Elder Smith's counsel against needless killing.
President Young remarked that some felt that the Twelve were oppressing the people. He testified that the Twelve were doing all they could to remove the yokes of oppression from the people rather than putting more on their shoulders. He further testified that he knew that they were being led by the Spirit of God and that if the camp continued faithful, they would be healthy and be able to perform their mission.
An evening, under moonlight, another meeting was held, at which Brigham Young proposed that every five wagons cook their meals together in order to save labor. A company of seventeen hunters was organized to hunt during the week. Seven of them would hunt or horseback, ten of them on foot. No longer would every man be allowed to run ahead with his gun, scaring away all the game. The Twelve could hunt whenever they wished. President Young asked the guard to do a better job and to see that no more horses were choked to death.
Winter Quarters, Nebraska:
Hosea Stout took Chief Caw to Alpheus Cutler's home for breakfast. The High Council met with the Otoes in the morning at 8 a.m. They told them that they were willing to help them haul corn. The Otoes were pleased and asked for gifts. John Taylor gave them some calicos. Daniel Spencer and Hosea Stout gave them a small sack of crackers.
At 11 a.m., a meeting was held at the Winter Quarters stand. John Taylor shared more experiences from his mission to England. Parley P. Pratt addressed with the Saints a significant problem that had arisen. Many of the Saints were fleeing across the Missouri River into Iowa, feeling that it was a safer place because of the recent Indian problems. Elder Pratt gave a report regarding the meetings with the Indian tribes and the High Council's decision to use more force to protect the Saints' interests. If the Omahas attacked their cattle, they were to "whip the Indians with a hickory but don't kill them."
Elder Pratt condemned those who were diverting their attentions from preparing for the migration to the West. "The Lord had called us to gather & not scatter all the time except when counselled to do this is the object of God. . . . Ye who want to scatter go and scatter to the four winds for the Lord can do without you and the church can do without you for we want the pure in heart to go with us over the mountains. . . . Strain every nerve to go on in the Spring. Wake up & go if you possibly can. Those who remain don't farm one here & one there, for union is needed & we are weak having so many men drawn from among us. So be united . . ."
Lorenzo Brown recorded that William McCary, the black/Indian musician from New Orleans had still been promoting himself as Adam. He had recently left the Saints to return to his tribe because of a sermon preached by Orson Hyde against his doctrine. He had convinced some others to follow after him, across the river to Mosquito Creek.
Elder Pratt ordered that no one could cross over the river on the ferry without a certificate from Isaac Morley. He hoped that this policy would stop those who fleeing from the city.
Eliza R. Snow wrote a poem in for Lyman O. Littlefield, who was about to leave on a mission to England.
Go, brother, go forth in the spirit of Jesus,
Enrobed with salvation, encircled with power;
Go forth as a herald and publish glad tidings --
Go call to the nations and tell them the hour.
Go, brother, be humble --hold fast your profession --
Continue to cling to the strong "iron rod:"
'Twill lead thro' the mists and the clouds of thick darkness,
To the fountain of light and the glory of God.

Go, brother, thy country has chased thee in exile,
With an oft oppress'd people, the Saints of the Lord;
Who are passing the furnace of deep "fiery trials,"
Rejoicing in hope of the "better reward."

Go, brother, go tell our dear brethren in Europe
The suff'ring and patience and faith of the Saints,
Who, for righteousness sake, on the earth are but strangers --
But God is their Lord, and their spirit ne'er faints.

Go, brother, and say to the Saints that are faithful
That God is preparing a kingdom of rest;
And when they have pass'd thro' the tide of affliction,
With the fullness of blessing they'll truly be blest.

Go, Brother, be faithful, and God will protect you
And bear you in safety across the great deep;
And your guardian angel will bring you instruction,
And whisper sweet comfort to you when you sleep.

Go, brother, and when from the friends now around you,
You are breathing the air of a far distant clime,
Look oft in the mirror of your recollection
And the sweet sounding harp-strings of friendship will chime.

May the God of our fathers preserve you from evil,
And fill you with wisdom and light evermore;
And when you with honor have finished your mission,
Return you in peace to America's shore.
Mormon Battalion, at Los Angeles, California:
Company A moved into town to start building a fort. Rumors were afloat about an expected attack from Mexicans and Indians during the night. Colonel Cooke ordered Jefferson Hunt to have the battalion ready to form a battle line at a moment's notice. Most of the men were up all night because they believed that they would be attacked. A dispatch was sent via pony express to Cajon Pass ordering all them men stationed there to return to Los Angeles.
Sources:

Wilford Woodruff's Journal, 3:159 "Excerpts from the hitherto unpublished Journal of Horace K.
Whitney," Improvement Era, 50:204
Diary of Lorenzo Dow Young, Utah Historical Quarterly, 14:156
Charles Harper Diary, 18
Erastus Snow Journal Excerpts, Improvement Era 14:820
Luke S. Johnson Journal, typescript, BYU, 4
Bagley, ed., The Pioneer Camp of the Saints, 132
Lyman Littlefield Reminiscences (1888), p.208
Stephen F. Pratt; BYU Studies Vol. 24, No. 3, pg.378
Nibley, Exodus to Greatness, 375
Brooks, On the Mormon Frontier, The Diary of Hosea Stout, 1:244, 252
Tyler, A Concise History of the Mormon Battalion, 279
Source:
150 Years Ago Today
©These materials have been created by David R. Crockett. Copies of these materials may be reproduced for teacher and classroom use. When distributing these materials, credit must be given to David R. Crockett. These materials may not be published, in whole or part, or in any other format, without the written permission of Mr. Crockett, Tucson Az,
crockett@goodnet.com
.