General Information
Perpetual Emigration Fund (Stan Kimball)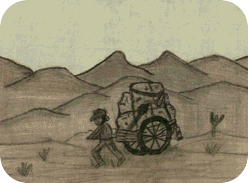 Description:
Line drawing by Jolynn, a ninth grader from Central Davis Junior High.
Image courtesy of:
Heritage Gateway Project Images, These images have been gathered to support the Sesquicentennial celebration of the immigration to Utah.
Another unusual aspect of the Mormon emigration, was the Perpetual Emigration Fund, one of the biggest single enterprises undertaken by the Mormons in the nineteenth century.17 Begun in 1850, the idea was that the church would create a revolving (or perpetual) fund to aid the poor, especially the poor European emigrants. Those helped by the fund were expected to reimburse it after settling in the American West.
Perpetual Emigration Fund (PEF) agents in Europe chartered ships, or special sections of ships, at reduced fares, and other PEF agents in New York, Boston, Philadelphia, New Orleans, and St. Louis helped make travel arrangements, at reduced costs, for the overland journey to Utah. Initially the fund accomplished its main purpose well. Between 1850 and 1859 the fund brought 4,769 emigrants to Zion at a cost of $300,000. By the time of its demise in 1887, the fund had helped to emigrate more than 100,000 people, at a total cost of about $12,500,000. The Saints were slow, however, in paying back their advances. By 1877, $1,000,000 was owed to the fund. Ten years later the PEF was dissolved.
Source:
Historic Resource Study - Mormon Pioneer National
By Stanley B. Kimball, Ph.D., May 1991. (The study focuses on the history of the trail from its official beginning in Nauvoo, Illinois, to its terminus in Salt Lake City, Utah, during the period 1846-1869. During that time, thousands of Mormon emigrants used many trails and trail variants to reach Utah. This study emphasizes the 'Pioneer Route' or 'Brigham Young Route' of 1846-1847. The sections on Mormon beliefs and motivations for going west have been omitted. Interested persons can find ample sources for that information. The footnotes, bibliography, maps, pictures, pioneer companies by name and dates for the 22-year period, and historic sites - about 2/3 of the book - have also been left out for space considerations. Thanks to Dr. Kimball and the National Park Service for the availability of this information.)