Recommended Reading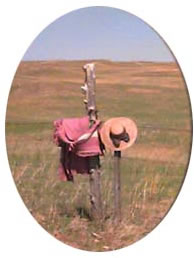 Description:
The prairie is a nice background for pictures.
Image courtesy of:
Heritage Gateway Project Images, These images have been gathered to support the Sesquicentennial celebration of the immigration to Utah.
The Sesquicentennial Pioneer Book Review Board
May, 1997
Dear Friends of the Sesquicentennial,
The purpose of this board is to recommend books and music to the public that promotes the pioneering spirit. The following items have been reviewed, have met the board's criteria, and have received The Spirit of Pioneering Award of Excellence based on a majority vote. This list is being made available to libraries, schools, and bookstores. Recommendation was based on the following guidelines:
Books must inspire and promote the spirit of pioneering.
Stories may relate to pioneers that settled the Salt Lake Valley and Utah, but are not restricted to the L.D.S. people. Pioneering endeavors from all faiths and cultures who are part of the history of Utah were encouraged.
Books may be fiction or non-fiction and must be currently in print.
Stories may deal with faith in God, adversity, hope and the courage to move forward in the face of great odds. Subject matter need not necessarily deal with the pioneers of 1847.
Music must lift and inspire. Works which tell a story were encouraged.
The Story of the Latter-day Saints


James B. Allen & Glen M. Leonard
Deseret Book; ISBN 0-87579-565-X
Life In Zion: An Intimate Look at the Latter-day Saints
William W. Slaughter
Deseret Book; ISBN 0-87579-893-4

In Their Own Words: Women and the Story of Nauvoo


Carol Cornwall Madsen
Deseret Book; ISBN 0-87579-770-9

Images of Faith, Art of Latter-day Saints


Deseret Book; ISBN 0-87579-912
The Gathering: Mormon Pioneers on the Trail To Zion
Maurine Jensen Proctor & Scot Facer Proctor
Deseret Book; ISBN 1-57345-056-1

Providential Hill


Lillian Armstrong Fox
Jordan River Publishing Co.; Salt Lake City, UT
ISBN 1-890366-00-5

Pioneer Images, Hand cut Paper Design Book


Lerry Wallace
Jordan River Publishing Co.; Salt Lake City, UT
ISBN 1-890366-05-6

The Work & The Glory

- all volumes
Gerald Lund
Bookcraft, Salt Lake City. UT

Women of the Mormon Battalion


Compiled and edited by Carl V. Larsen & Shirley N. Maynes
Watkins Printing, Providence, UT

Utah Quilts, 1847-1950


Utah Quilt Heritage, Inc.
University Press

The Pioneer Camp of the Saints: The 1847 Mormon Trail Journals of Thomas Bullock


Edited by Will Bagley
Arthur H. Clark Company

Winter Quarters: The 1846-1848 Life of Mary Haskins Parker Richards


Utah State University Press

The Mormon Trail: Yesterday and Today


William Smart
Utah State University Press
111 Day to Zion
Hal Knight & Stanley Kimball
Big Moon Traders

Promised Valley, The Novel


Lance Williams & Tillman S. Boxwell
Alma, UT
Appropriate Reading for Children
I Walked To Zion
Susan Arrington Madsen
Cinnamon Tree; ISBN 0-87579-848-9

Growing Up In Zion


Susan Arrington Madsen
Cinnamon Tree; ISBN 1-57345-189-4

The Mormon Girl Series-Abigail


Patti Landes Kinzie
Dovetail Press/Hearts of the Children;
Distributed by Jordan River Publishing; Salt Lake City, UT
ISBN 1-88046-41-7

The Mormon Girl Series-Sally Ann


Patti Landes Kinzie
Dovetail Press/Hearts of the Children;
Distributed bye Jordan River Publishing
ISBN 1-886046-42-5
Hands-On Pioneers: Art Activities
Yvonne Young Merrill & Emily Young Merrill
Deseret Book; ISBN 1-57345-085-5
Also: Providential Hill by Lillian Armstrong Fox
(see above)
Music
Pioneer Portrait


Merrill Jensen
Shadow Mountain Music
If you have any questions regarding this list, please direct inquiries to:
Patti Adams, Chairperson (801) 277-2083 Fax (801) 277-2400
P.O. Box 17311, Salt Lake City, UT 84117