Pioneer Date Summary
04/06/1847 - Crockett
Date: April 6, 1847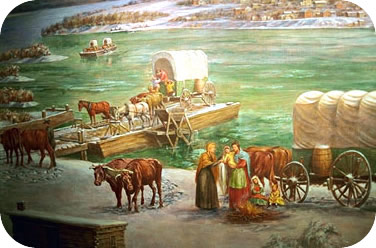 Description:
Second panel of the Pioneer Mural by Lynn Fausett.
Image courtesy of:
This is the Place Heritage Park
, This park includes the 'This is the Place Monument' and 'Pioneer Home and Garden: Old Deseret Living History Museum.
Elkhorn River, Nebraska:
Levi Jackman arrived at the Elkhorn River where he found four other pioneer teams who had left Winter Quarters ahead of him. He crossed over the river on a raft and set up camp to wait for the remainder of the pioneers to arrive from Winter Quarters.
Winter Quarters, Nebraska:
A short General Conference of the Church was held at 10 a.m. Wilford Woodruff wrote: "The sun shone bright, the Heavens smiles upon us. Our hearts were made glad. President Young spoke to the people good doctrine." He spoke of those who persecuted the Church and observed that if the mob gave back one hundredth part of what they had stolen, it would be enough to "carry us over the mountains." He prayed that their enemies' hearts would be softened. He warned the people to avoid the evils of dancing because they would be a snare, and instead to sing hymns. Brigham Young was sustained as President of the Church and of the Twelve Apostles. The other members of the Twelve were also sustained: Heber C. Kimball, Orson Hyde, Parley P. Pratt, Orson Pratt, Willard Richards, John Taylor, Wilford Woodruff, George A. Smith, Amasa Lyman and Ezra T. Benson. Lyman Wight was not received unanimously, but his case was held over to another time. Elder Wight had been away for months in Texas. Other positions sustained: Willard Richards as Church Historian and John Smith as Patriarch in the Church. [...]
Mary Richards attended this conference and wrote: "Bro B[righam] & Kimball gave us much good instruction in regard to the future proceeding of the Camp in this place etc. after which we were dismissed with the Blessings of the Lord." Erastus Snow added: "Spent a few hours in the exchange of feeling and in exhortation, and in transacting some important business, and adjourned by advice of President Brigham Young, as the most part of the pioneer company were about ready and anxious to be on their journey westward." William C. A. Smoot, one of the pioneers, left Winter Quarters to head for the Elk Horn River to stand guard.
Summer Quarters, Nebraska:
Summer Quarters was measured off and divided into city plots. John D. Lee called the family together and they chose whether the land should be pooled together as a family or divided up privately. Those who wanted the land pooled together were: A[lfred] D. Young, David Young, James Woolley, Henry Woolley, George Laub, A[llen] Weeks, William Allen, T. Allen, Levi North, George W. Hickerson and some others. T. Johnson, William Pace, and Miles Anderson wanted private ownership. There were some sharp words spoke during the discussion and John D. Lee had to reprove some of the men. Brothers Harris, [Simeon] Dunn and [James] Busbey soon arrived into the camp.
Cincinnati, Ohio:
Luman Shurtliff continued to labor to collect donations for the destitute Saints in Garden Grove, Iowa. He wrote: "I called on one wholesale merchant who refused me money, finally hunted up some men's hats that were out of style and gave me two dozen. These hats sold in upper Missouri for three dollars each. Sometimes I would get a box of soap, sometimes a pair of boots or a coat or pants or dishes or a looking glass. At one place I got a gross of spoons, a gross of knives and forks. I made many trips a day to my room which was four pair of stairs up. On an average my travel was about two miles each load. I was walking and talking all day and this affected my lungs and I was failing fast."
Mormon Battalion, at Los Angeles, California:
A wagon was sent to the coast to load provisions from a ship. Colonel Cooke issued an official order to discontinue the post at San Luis Rey Mission. "1st Lieutenant, Oman, Mormon Battalion, will march his detachment, composing its garrison, to this city without delay. He will drive here all the public mules and bring with him other public property in his charge."
Between Tahiti and Hawaii:
Elder Addison Pratt, on the first leg of his voyage to home from his long mission, noted in his journal that this was his daughter Lois' tenth birthday. [Poor Elder Pratt was gone so long that he forgot that his daughter's birthday was really March 6th.] He wrote: "Again is my dear family brought fresh to my mind by this anniversary. And to reflect that I am now on my way to them is a pleasant thought. But the next thought that arises is, Where are they? [They were in Winter Quarters.] Or where am I to find them? It is true I have started for California, in hopes to find them there. But as I have not heard a word from them since August, 1844, who can tell me that I am to find them there?"
Sources:

Watson, ed., Manuscript History of Brigham Young, 546-47
Kelly, ed., Journals of John D. Lee, 1846-1847 and 1859, 144
Wilford Woodruff's Journal, 3:146
Luman Shurtliff Autobiography, typescript, BYU-S, p.73
Ward, ed., Winter Quarters, The 1846-1848 Life Writings of Mary Haskin Parker Richards, 117
Brooks, On the Mormon Frontier, The Diary of Hosea Stout, 1:246
Levi Jackman Autobiography, typescript, BYU-S, p.26
Erastus Snow Journal Excerpts, Improvement Era 14:633
Knight and Kimball, 111 Days to Zion, 5
Beecher, The Personal Writings of Eliza Roxcy Snow, 164
Journal of Henry Standage in Frank Alfred Golder, The March of the Mormon Battalion, 217
Tyler, A Concise History of the Mormon Battalion, 275
Ellsworth, The Journals of Addison Pratt, 325
Source:
150 Years Ago Today
©These materials have been created by David R. Crockett. Copies of these materials may be reproduced for teacher and classroom use. When distributing these materials, credit must be given to David R. Crockett. These materials may not be published, in whole or part, or in any other format, without the written permission of Mr. Crockett, Tucson Az,
crockett@goodnet.com
.