Life On The Trail
Pioneer Cemeteries (3) - Salt Lake City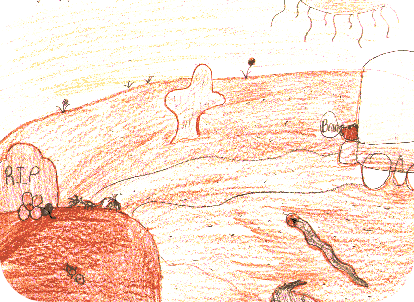 Description:
Crayon drawing by Amanda, a 4th grader from Valley View Elementary.
Image courtesy of:
Heritage Gateway Project Images, These images have been gathered to support the Sesquicentennial celebration of the immigration to Utah.
FIRST CEMETERY IN THE SALT LAKE VALLEY, 1847-48
(Also the Kimball-Whitney and Brigham Young private cemeteries)
Early in the spring of 1846, a group of Mormon pioneers known in history as the Mississippi saints, left their homes in Mississippi, expecting each day to meet the pioneers under the direction of President Brigham Young and go with them to the Rocky Mountains. They had not received word that the body of the saints had decided to winter in Council Bluffs, so on they journeyed. When they reached Fort Laramie they learned from trappers and scouts that Brigham Young and his group had not been seen along the route. A mountain man, Henri Richard, offered to guide them to Pueblo, where he was going for supplies. They accepted the offer and established winter quarters there. These people established what is sometimes known as the first Anglo-Saxon settlement in Colorado.
Early in the summer of 1847 they learned that the first group of pioneers was on its way to the Valley of the Great Salt Lake. An advance company of seventeen persons, 5 wagons, 1 cart, 24 oxen, 22 cows, 3 bulls, and 7 calves, caught up with Brigham's company, June 4, at Ft. Laramie. This small group, headed by Robert Crow, consisted of ten persons with the last name of Crow and four (a son-in-law's family) with the name Therlkill. Milton Howard Therlkill was only 3 years of age at the time. Trouble plagued the Crow family all the way to Salt Lake, but this group arrived in the Valley with the main vanguard company, July 22, 1847.
Less than a month later, Milton drowned in City Creek and was buried, 12 Aug 1847, at this location. (One note indicated it was on his grandfather's [Robert Crow] lot. It was probably where his grandfather had his wagons set up while the fort was being built. The Crow and Therlkill families were not given property in Platt A. They went to Brown's Settlement [Ogden] the following year.) Milton was the first white person to die and be buried in Salt Lake City. He was buried on the east side of block 49, one block due east of the old Pioneer Fort (nearly opposite the adobe yards - there were adobe bricks made west of the fort and one reference is made of the fort as the adobe yard). This site was on the bank of a dry channel of City Creek, west of two springs, and next to a Fremont Indian mound. Excavations in 1986 located 32 bodies in 31 graves in the southeast quadrant of Block 49 (Section 8, see map).
More persons died in the Valley the first year than were located during 1986. Some journals indicate burials at the mound on the Shurtleff property, which occupied the northeast quadrant of Block 49 (Sections 6 and 7). Of the 32 pioneer bodies found, 9 were adults, the others were adolescents, children, and babies. They include: Milton Howard Therlkill (age 3), 12 Aug 1847, drowned previous day, Aug 11. Caroline Van Dyke Grant (age 29), wife of J.M. Grant, died of Cholera on Bear River, 26 Sep, bur. 30 Sep 1847 Nancy O'Neal Rich (age 65), pneumonia, buried next to C.V. Grant, 6 Oct 1847, 1st woman to die in Valley. Mary Evangeline Stewart (age 13), first person to sicken and die in the Valley. Arrived: 25 Sep Franklin K. Shed, poisoned by eating roots; buried in same grave as Snow child. John Edward Brewer Oakey (age 5), killed instantly by a log, rolling from saw pit. Arrived: 2 Oct. Elizabeth Covington (age 27), died of the cold. Arrived: 1 Oct Adam McDonald (age 57), who died of dysentery one hour before arriving in the Valley. Jacob Foutz (age 47), 11 Feb 1848, bishop and captain, had healed broken bones, shot in thigh. Arrived: 1 Oct.
Caroline Grant had her 2nd child, Margaret, in Winter Quarters, leaving her in a weakened condition when she came west. Cholera struck the camp on the Sweetwater River and claimed the baby, Margaret, on Sept. 2. She was buried along the trail four days before her mother died. Carolyn succumbed to the disease, Sept. 26th, at the Bear River crossing, 75 miles from Salt Lake City. Jedediah drove night and day to get to Salt Lake, where she was buried 4 days later. He and his friend Joseph Bates Noble went back to recover the body of Margaret and found that wolves had ravaged the grave and body. Before they reached the grave, Grant confided to his friend, "Bates, God has made it plain. The joy of Paradise where my wife and baby are together, seems to be upon me tonight. For some wise purpose they have been released from the earth struggles into which you and I are plunged. They are many, many times happier than we can possibly be here."
His other daughter survived. Jedediah became Salt Lake City's first mayor in 1852. When Willard Richards died, he became a counselor to Brigham Young. He was tall and angular and had a little of the Abraham Lincoln look. He gave fiery speeches, especially during the Reformation of 1856. He called the people to repentance, helped re-baptize them as a token of their recommitment. Insurance papers listed the cause of death (he was in his early 50's) as "typhoid-pneumonia." Given the idea that he had spent long hours deep in the cold and unsanitary waters of baptism during October and November, his falling victim of either or both of these afflictions was at least likely. His home was where the west entrance to Z.C.M.I. is now.
Just before he died, he had a remarkable visit to the spirit world, which he related to Heber C. Kimball, who told of it at his funeral. He saw many persons that he knew but only had conversation with his wife Caroline. She was the first person that came to him. She looked beautiful and had their little child, that died on the plains, in her arms, and said, "Mr. Grant, here is little Margaret; you know that the wolves ate her up, but it did not hurt her. Here she is all right."
Nancy O'Neal Rich, wife of Joseph and mother of Charles C. Rich, arrived Oct. 2 and was buried 4 days later, next to Caroline Grant. Clara Decker Young, Brigham's wife on the vanguard company, wrote, "I followed (Caroline) to the grave next morning, which made me very lonesome." Feb. 11, a granddaughter, Eliza N. Rich (age, 3 months) was buried next to her. North of the west end of Grand Avenue, Salt lake Cemetery, is a memorial monument to her, the first woman to die in the Valley, and her son, Ben E. Rich.
City Ordinance. On Feb. 26, 1856, Mayor J.M. Grant signed an "Ordinance in relation to removing and burying the Dead," which stated that "1. No person shall be allowed to inter their dead within the limits of this City, except in the Public Burying Ground (City Cemetery), unless by permission of the City Council. 2. All deceased persons within the limits of this City, not interred in the Public Burying Ground, are hereby required to be removed by the relatives or friends of the deceased to said Ground, on, or before the first day of May next, unless on petition to the City Council, such bodies may be allowed to remain. 3. Any person or persons failing to comply with the requirements of this Ordinance shall be liable to pay a fine in any sum, not less than twenty nor more than fifty dollars at the discretion of the Court having jurisdiction."
On the of April, at the City Council session held in City Hall, a motion carried, "That the deceased family of Pres. H.C. Kimball now interred upon his City Lot be suffered to remain. That the remains of the departed Father and Mother of George A. Smith, viz. John Smith Patriarch and (Bathsheba) Smith his consort be permitted to remain where they are interred on Blk (? - probably Block 86, west of Temple Square, George had Sections 1, where the Family History Library is now, 2 and 3, and John had Section 8, where the Church History Museum is). That the remains of Willard Richards deceased, continue in its present place of interment (he had property on 3 blocks, one of which was 76, immediately south of Temple Square)." They are now in the city cemetery.
E.F. Sheets successfully petitioned in behalf of Brothers Wright, (?), and his own deceased friends, that they might remain where they had been buried some years. A motion carried that the remains of the friends of J.M. Grant, V. Shirtleff, General Rich and others buried on the mound in the lot belonging to V. Shirtleff (Section 7, Block 49) be permitted to remain.
Developments since 1984
The grave sites were soon forgotten. In 1984, the RDA saw block 49 as a blighted area, bought the old buildings belonging to a few marginal businesses, razed them and sold the block to Bono Development Inc. Bono borrowed $13.5 million in bonds from the Salt Lake Housing Authority on the condition that 20 percent of a proposed 300-unit apartment complex be for low- income and elderly tenants. In the last week of July, 1985, Bono Development paid a Colorado company , Gilbert-Commonwealth, $19,835 to conduct a search of the property for the pioneer graves. After crisscrossing part of the block for a week, all they had to show for their labors was a few animal bones and left town. Hopeful descendants were heart-broken.
Construction began in 1986. Sunday, July 6, Charles Maurie climbed under the fence at the site about 10 a.m. to look for old bottles, but after only 5 minutes found the remains. He went to the car where his wife, Shawnna, was waiting. She asked, "Didn't you find anything?"
"Just a coffin, Charles said.
"You've got to be kidding. You found those bodies?"
The construction company had dug a trench about 25 feet to the north of where the previous year's efforts stopped. One grave had been disturbed but not reported. The Mauries returned with some other amateur archaeologists, a veterinarian, who confirmed the bones were human, and Bill Nielsen. Poking around they found a second coffin, largely intact. Nielsen had an 1889 map that showing the site of the discovery to be in back of several homes on the block. Police sealed off the area. Construction was halted. BYU archaeologists were given a contract and came to excavate. Complicating the work, the remains were buried on top of a Fremont Indian garbage dump. Excavating began, July 24th, and ended, August 8th. The coffins were made with little or no room to spare. The tops had all disintegrated and sometimes the sides. Children were buried 3 to 4 feet closer to the surface than the adults - some no more than 18 inches below the present ground level. Most archaeologists were confident that the cemetery was now empty, though bodies assumed to be there were not found (for example:. a man and an infant supposed to be in the same grave, etc.). Some persons felt that more graves would be found west and/or north of the present site. Funding would not permit further excavation work. Following forensic work in Wyoming, the remains were transferred to Pioneer Trail State Park and were reentered, Memorial Day, 1987, east of the Mary Fielding home, in a scaled down but faithful replication of the original. (Unknown bodies are marked with wooden headstones, others with stone.)
Bono Development went bankrupt, plunging first into Chapter 11, then Chapter 7, proceedings, and then finally freezing action on the block from 1987 to 1991. The city's RDA repurchased the block and a master plan that included a hotel, apartments, a cultural center, and stores was developed under mayor DePaulis.
New mayor, Corradini picked the site for an Olympic speed-skating oval but was met with protests and threats of lawsuits from several quarters and abandoned the idea.
A monument was erected on the northeast corner of the block which stated that the graves were located 200 feet south and 30 feet west from that point. The monument was torn down in 1995 to make room for apartment buildings. The drive entrance south of the apartments covers the burial spot. Developers have not replaced the monument as of 1997.
KIMBALL & WHITNEY CEMETERY
The cemetery is located in the middle of the block north of the Church Office Building. Entrance is on Gordon Place. This is simply a narrow driveway between two houses on the west side of State Street, half way between North Temple and First North Streets. Drive west between the houses and you will find parking in the rear of each house and entrance to a small park, owned and maintained by the LDS Church. The cemetery is in the northwest corner of the park. This was the first private plot of ground in Salt Lake Valley formally dedicated as a burial ground. It was on a hill back of the old Kimball Homestead which faced Main Street. In the fall of 1848, Heber and Newell K. Whitney dedicated this sacred spot of ground to the Lord as a private cemetery for the two families. Newell whitney's family occupied land where the Church Relief Society building is located on the northwest corner of Main and North Temple Streets.
HEBER CHASE KIMBALL
Heber was one of the orginal pioneers of Utah. He was ordained an Apostle February 14, 1835, under the hands of Oliver Cowdery, David Whitmer and Martin Harris. After helping to establish the head-quarters of the Church in Great Salt Lake Valley, he returned with Pres. Brigham Young to Winter Quarters, and when the presidency of the Church was reorganized on Dec. 24, 1847, Brother Kimball was selected and set apart as first counselor to Pres. Brigham Young, which position he held until his death (1868). In 1850 Heber had a household of nine, a real wealth of 12,000 and no personal wealth. 2. In 1860 Heber had a household of 68, and no wealth. Utah Federal Census; Year: 1851, 1860
Newell's wife, Ann Houston "Mother" Whitney was the first to be buried here, November of 1848. Two years later, Newell, himself, became the 6th person to occupy the cemetery. Heber, Vilate, and Ellen Sanders Kimball, one of the first 3 women to enter the valley, are buried here.
There are 56 persons resting in the cemetery: 33 Kimballs, 13 Whitneys, and 10 others, including hired help, friends, and 2 Indians.
When Solomon Kimball returned from Arizona in 1886, he found the cemetery in a neglected condition. There was no fence around it. Nine-tenths of the graves could not be identified. Worse yet, the property was in the hands of 4 different people, each of whom was determined to commercialize it. Soon after, he found that it had been sold for taxes. He took matters in hand and discovered an old territorial law that exempted all burial places from taxation. He did not cease his labors until the titles were in possession of the Kimball family and a right-of-way was obtained to Main Street. A good iron fence was placed around the property. Four of the lots which belonged to Heber C. Kimball's estate were found which had been overlooked by the administrators. Proceeds from the sale of these lots brought $3,000 which was used to beautify and improve the cemetery. Lawn and beautiful evergreen trees were planted and a caretaker, John Drakeford, hired. Mr. Drakeford served in this capacity for many years. Solomon went before the city council who granted the perpetual right to allow the honored dead to remain there on condition that the family improve, beautify, and take care of this piece of property and allow no more internments to be made there.
Solomon F. Kimball was manager and custodian of the Kimball & Whitney Cemetery for 25 years. During that time it was kept up by donations from members of the Kimball and Whitney families. Annual reports were mailed to members of the families listing donations and expenditures and each contained poems, photographs and short sketches of those buried in the cemetery. Alice Kimball and Annie Kimball Knox, daughters of Heber, were the next custodians, followed by Joseph Kimball, then J. Golden Kimball. It was through the efforts of J. Golden that the Latter-day Saints assumed perpetual care of the Kimball & Whitney Cemetery.
THE "MORMON PIONEER (Brigham Young) MEMORIAL" CEMETERY
This cemetery, located a block east on First Avenue on the south side of the street, is the only other private cemetery in the city. Owned and maintained by the LDS Church, the ground is located on the east end of Brigham's original estate. Orchards were planted to the north and west. (From the Kimball Cemetery, drive east on North Temple, which becomes Second Avenue, and turn south at the first street east of State Street, then west on First Avenue.)
Mary Van Cott Young was wife number 51. She married James Cobb, a non-Mormon, had a child, divorced, and married Brigham. Her father, John Van Cott, was a General Authority.
Eliza Roxey Snow Smith Young was sealed to Joseph Smith. Following his death she was sealed to Brigham Young for time. I don't think she had a connubial relationship with either prophet.
Mary Ann Angell was the sister of Salt Lake Temple architect, Truman O. Angell. Brigham's first wife died before he joined the Church. Mary was his second wife. She bore him 6 children. Brigham's first wife, Miriam Works, bore him 2 children before she died in 1832.
Lucy Ann Decker was 20 when she became Brigham's first polygamous wife, 14 Jun 1842. She was previously married to and divorced from William Seeley, who was alcoholic and abusive. She always felt her polygamous relationship with Brigham was superior to her monogamous relationship with William. She was well organized and efficiently ran the Lion House. Her younger sister, Clarissa (Clara) Decker, became Brigham's 4th polygamous wife two years later, at age 16, and crossed the plains with him and her mother, Harriet Wheeler Decker Young, Lorenzo's wife, in the vanguard company. Her statue is part of the "This is the Place" monument.
Joseph Angell Young was the first son of Brigham and Mary Angell and extremely instrumental in the rescue of the Willie and Martin Handcart Companies in 1856. He was returning from his European mission with Franklin D. Richards when they passed both companies along the trail. He reported their difficult circumstance in October Conference and returned the following day with the first relief company. He pushed beyond Devil's Gate, found the Martin Company starving and stalled in snow near Casper, Wyoming, and got them moving towards relief at Devil's Gate and Martin's Cove.
On account of the persecutions of the "Mormon" people, he was deprived of the advantage of an early education, but was a discriminating and passionate reader, and at the time of his death had, perhaps, the finest private library in the Territory.
Joseph was the first president of the Sevier Stake of Zion. His labors in the development of Sevier county were enormous, and among the enterprises which he carried to a successful fame was the road through Clear creek canyon. He was a representative of Salt Lake county in the 6th, 11th and 12th sessions of the Utah legislature, and was a member of the upper house representing Salt Lake, Tooele, and Summit counties in the 14th, 15th, 16th, 17th, and 18th sessions, and Sanpete and Sevier counties in the 19th session. Joseph died suddenly in Manti, Utah, August 5, 1875. At his death, the "Deseret News" published the following: "Elder Young was esteemed for his many estimable qualities of heart as well as head. He was a man of naturally keen intelligence, his mental qualities even reaching what might be termed brilliancy in some directions, while his generosity was proverbial, especially among the working classes, all who were ever in his employ holding him in esteem for his universally kind and fair treatment." The legislative council, in resolutions of respect, said of him: "He was a man of keen and even brilliant intellect and as an organizer was remarkable...His perceptive faculties often enabled him, in matters of great importance to comprehend the end from the beginning...His sympathy, consideration and kindness to the poor, under all circumstances, have formed [for him] a bright crown." He left eleven children when he passed away.
Emmeline Free Young was wife number 20. Her two sisters married Daniel H. Wells. Emmeline bore Brigham 10 children , the most of any of his wives. Brigham frequently named his boys after men he respected. His 4 boys by Emmeline were named: Hyrum Smith, Lorenzo Dow, Alonzo, and Daniel Wells. Joseph, Hyrum, and Brigham show up multiple times as well as Jedediah Grant, Willard, Heber, and Edward Partridge. (He loved to name his houses, also, "White", "Lion", and "Guardo."
Alice Young Clawson was the 4th child of Brigham and Mary Ann Angell.
BRIGHAM YOUNG
When Joseph told him about Celestial Marriage, saw a funeral go by and remarked that he would rather trade places with the corpse than enter a polygamous marriage. He eventually had 55 wives, 32 of which had been previously married. Sixteen women produced his 56 children. Ten women previously sealed to Joseph Smith for eternity were sealed to Brigham for time. Nine women divorced Brigham. All were young and most were part of the rush to be involved in polygamy. Brigham married 4 women before Joseph was martyred, 15 more before the Nauvoo Temple was finished, 19 after the temple was completed, 9 while crossing the plains (the first, Jane Terry, died 4 days later). The last 6 were married in Utah and all but Amelia Folsom were previously married. Amelia was 24 (Brigham 61) when she married. She bore no children, but dressed fashionably and accompanied Brigham on his frequent trips throughout the state. Her father, architect Folsom, designed and built the "Guardo House" across the street from the Lion House. It was known as "Amelia's Palace." It was to be used for entertaining important guests. Brigham died before it was completed. It was lived in by John Taylor and Wilford Woodruff.
Mark Twain once said of polygamy: "Mormon women were so ugly that any man that would marry one should be honored. And any man that could marry two should have a monument erected to him." (There is one on Main Street, next to Temple Square.)
BRIGHAM'S BURIAL INSTRUCTIONS:
At the funeral of Brigham Young, George Q. Cannon read the following remarkable statement which President Young had prepared in 1873, more than four years previously, regarding his funeral services and the disposition of his remains.
"I, Brigham Young, wish my funeral services to be conducted in the following manner:
"When I breathe my last I wish my friends to put my body in as clean and wholesome state as can conveniently be done, and preserve the same for one, two, three or four days, or as long as my body can be preserved in a good condition. (In those days, bodies were preserved by putting ice in quart jars and placing them around the body as best they could to keep the body as cold as they could. The season of the year and availability of ice would largely determine the number of days a body could be kept.) I want my coffin made of plump one and one-quarter inch boards, not scrimped in length, but two inches longer than I would measure, and from two to three inches wider than is commonly made for a person of my breadth and size, and deep enough to place me on a little comfortable cotton bed, with a good suitable pillow for size and quality; my body dressed in my temple clothing, and laid nicely into my coffin, and the coffin to have the appearance that if I wanted to turn a little to the right or to the left, I should have plenty of room to do so. The lid can be made crowning (convex).
"At my interment I wish all of my family present that can be conveniently, and the male members wear no crepe on their hats or on their coats; the females to buy no black bonnets, nor black dresses, nor black veils; but if they have them they are at liberty to wear them. The services may be permitted, as singing and a prayer offered, and if any of my friends wish to say a few words, and really desire, do so; and when they have closed their services, take my remains on a bier, and repair to the little burying ground, which I have reserved on my lot east of the White House (his residence after the log cabin in the pioneer fort and the Beehive House. It was the first stuccoed adobe house in the Valley.) on a hill, and in the southeast corner of this lot, have a vault built of mason work large enough to receive my coffin, and that may be placed in a box, if they choose, made of the same material as the coffin - redwood. Then place flat rocks over the vault sufficiently large to cover it, that the earth may be placed over it - nice, fine, dry earth - to cover it until the walls of the little cemetery are reared, which will leave me in the southeast corner. This vault ought to be roofed over with some kind of temporary roof. There let my earthly house or tabernacle rest in peace, and have a good sleep, until the morning of the first resurrection; no crying or mourning with anyone as I have done my work faithfully and in good faith.
"I wish this to be read at the funeral, providing that if I should die anywhere in the mountains, I desire the above directions respecting my place of burial to be observed; but if I should live to go back with the Church to Jackson County, I wish to be buried there."
"BRIGHAM YOUNG"
"President of the Church of Jesus Christ of Latter-day Saints,
"Sunday, November 9th, 1873
"Salt Lake City, Utah"
President Young, leader of the Church for thirty-three years, did die "in the mountains" (meaning Utah), and his instructions were respected and carried out to the letter.