Pioneer Date Summary
05/24/1847 - Crockett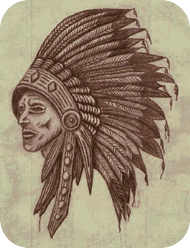 Description:
Line drawing by Dusten, a ninth grader from Central Davis Junior High.
Image courtesy of:
Heritage Gateway Project Images, These images have been gathered to support the Sesquicentennial celebration of the immigration to Utah.
Location: Broadwater, Nebraska - Location: 41:35:46N 102:51:08W
Date: May 24, 1847
On the North Platte River, Nebraska:
It was so cold that at 6 a.m. a few flakes of snow were seen. At 8 a.m., the pioneers moved out of their weekend camp. When the company halted for the noon rest, they were visited by two Sioux Indians. Using sign language, the Indians explained that their tribe was a small distance up and across the river. They fed the Indians and showed the the dog that had been following the camp for several days. The dog was also shy around the Indians but they took it with them. They crossed the river to tell their tribe about the pioneers, who continued their journey.
Lorenzo Young wrote: "Across the river a little to the right of us we could see something that resembled a stately courthouse. I presume it was a rock. [This formation is called today Courthouse Rock.] As we approach Chimney Rock, it looks still more magestic."
About 5:30 p.m., after traveling more than sixteen miles, they saw a company of Indians across the river. The wagons were quickly circled for defense. Thirty-five Indians including a few squaws and boys approached the river from the south flying a flag of peace.
Brigham Young sent a man up the river with a white flag to greet them. Wilford Woodruff recorded. "I rode about two miles forward to find grass and a camping place and on my return I saw about 30 Sioux Indians plunge their horses into the river on the opposite side & make towards us. I rode with several others to the river & met them as they came out. They shook hands with us, very friendly. The Chief unfurled a large american flag with the eagle stars & stripes." He also presented letters of introduction written in French.
Orson Pratt wrote: "Being much better dressed than the Indians on the frontiers, many of them wearing broadcloth, blankets, and fur caps, ornamented with an abundance of beads and other ornaments, having bows and steel-pointed arrows, together with some fire-arms." William Clayton added: "All had many ornaments on their clothing and ears, some had nice painted shells suspended from the ear. All appeared to be well armed with muskets. Their moccasins were indeed clean and beautiful. One had a pair of moccasins of a clear white, ornamented with beads, etc. They fit very tight to the foot."
Their chief and four others were permitted to come down to the camp and were shown around by Stephen Markham and Henry G. Sherwood. William Clayton recorded: "They were shown a six and fifteen shooter also the cannon and the gunners went through the evolutions a number of times which seemed to please them much."
The horses in the camp were staked down carefully. Soon the brethren believed the Indians could be trusted and provisions were taken to the rest of the Indians camped about a quarter mile up the river. All of the Indians soon came into camp. John Higbee traded horses with one them and several of the brethren bought robe and moccasins. Their chief, Owastote-cha asked to stay overnight with the pioneers. His request was granted and a tent was set up for the chief and his squaw. The old chief amused himself by looking at the moon through a telescope for twenty minutes.
Heber C. Kimball was quite sick and was unable to leave his wagon to scout the road ahead.
Pueblo, Colorado:
The sick detachments of the Mormon Battalion and the rest of the Mississippi Saints departed from Pueblo, heading north toward Fort Laramie (300 miles away), to start their journey to California. [Six of the Mississippi Saints families had earlier left Pueblo and were already at Fort Laramie. This group included the families of Robert and Elizabeth Brown Crow, Matilda Crow Therlkill, Archibald Little, James Chesney, Lewis B. Myers, William and Margaret Casteel Kartchner, Milton Therlkill and James Therlkill.]
Winter Quarters, Nebraska:
It was a very rainy, cold day at Winter Quarters. A steam boat arrived with a large load of goods belonging to a Mr. Beach and Wooley. Mary Richards wrote: "A very rainy day was sewing most of the day and wrote a little in my journal, had the head ache and felt very gloomy all day."
Company B, Mormon Battalion, at San Diego, California:
About Fifty Indians came into town. A beef was killed and supper offered to them.
Sources:

Watson, ed., The Orson Pratt Journals, 406-07
Diary of Howard Egan, Pioneering the West, 47
Appleton Milo Harmon Goes West, 22
Journal of Luke S. Johnson, typescript, BYU, 9
Diary of Lorenzo Dow Young, Utah Historical Quarterly, 14:159
Wilford Woodruff's Journal, 3:183
Bagley, ed., The Pioneer Camp of the Saints, 165-66
William Clayton's Journal, 180-82
Our Pioneer Heritage, Vol. 1, p.501
The Journal of Robert S. Bliss, Utah Historical Quarterly, 4:94
Ricketts, The Mormon Battalion, U.S. Army of the West, 1846-1848, 250
Brooks, On the Mormon Frontier, The Diary of Hosea Stout, 1:256
Ward, ed., Winter Quarters, The 1846-1848 Life Writings of Mary Haskin Parker Richards, 144
Source:
150 Years Ago Today
©These materials have been created by David R. Crockett. Copies of these materials may be reproduced for teacher and classroom use. When distributing these materials, credit must be given to David R. Crockett. These materials may not be published, in whole or part, or in any other format, without the written permission of Mr. Crockett, Tucson Az,
crockett@goodnet.com
.