Pioneer Student Work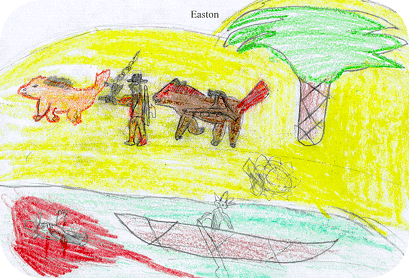 Description:
4th Grade Easton's picture to accompany his report on pioneer Orrin Porter Rockwell.
Image courtesy of:
Heritage Gateway Project Images, These images have been gathered to support the Sesquicentennial celebration of the immigration to Utah.
Pioneer: Orrin Porter Rockwell (Easton - 4th Grade)
Porter Rockwell was a very interesting man. His best friend was Joseph Smith, Jr., the man who organized the Mormon Church. He was Joseph's body guard, and was promised that if he would wear his hair long, his enemies could not hurt him. In the 1850's a widow, sister-in-law of his friend Joseph, was recovering from typhoid fever. She had lost all of her hair. Porter cut his hair and made a wig for her. He said from then on he could not control his swearing or want of alcohol. Porter was fast with a gun. After Joseph Smith's death, he continued to pursue criminals and help innocent people. He came to Utah in 1847 with Brigham Young. While riding from his home in Salt Lake City to his farm in Skull Valley, a man asked him if he was the famous Rockwell. After saying yes, the man said he was there to kill him. Porter asked how he was going to shoot his gun without a cap on his cap and ball pistol. The man looked down at his gun, and Porter shot him out of the saddle and rode on to his ranch. Porter Rockwell is my pioneer hero. I admire his spirit of adventure, courage, self-reliance, and sacrifice.