May Reenactment Photo Album
Previous
|
Next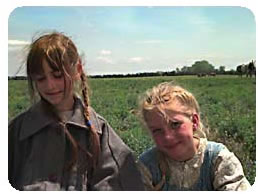 May 29, 1997
Name:
Pioneer Children Walked, and Walked, and Walked
Location: Bridgeport, Nebraska
Description:
Today we walked 17 miles. It has been even harder because for the last 3 days we have been walking on pavement. This is a lot harder to walk on than soft sand or dirt. These girls are ready for a rest!