July Reenactment Photo Album
Previous
|
Next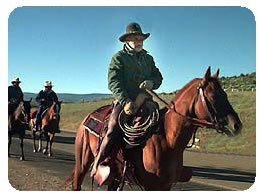 July 14, 1997
Name:
Ben Kern on Last Day as Wagonmaster
Location: Yellow Creek, Wyoming
Description:
Ben is from Wyoming. He retired from the Casper City Parks Department after 12 years of working there. He said he retired so he could fulfill a lifelong dream and participate in a wagon train. That was five years ago and he has done a wagon train every year since then.