Pioneer 1847 Companies
Pioneer Company, 1847, Organization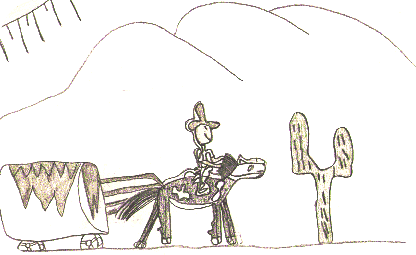 Description:
Colored pencil drawing by Quintin a 4th grader.
Image courtesy of:
Heritage Gateway Project Images, These images have been gathered to support the Sesquicentennial celebration of the immigration to Utah.
Apparently the original idea, by design or accident (but in any case consonant with the tendency of Mormons to pattern themselves after the ancient House of Israel), was to handpick and outfit 144 men (including three Black slaves or "servants" of southern members and two non-Mormons selected for their special skills)--twelve for each of the Twelve Tribes of Israel, in seventy-two wagons. The pioneer band was hand-picked by Young and other top church leaders. Men were interviewed and selected with a view to making roads, building bridges, erecting temporary quarters, and other pioneering skills. Collectively those chosen had a variety of talents and skills. There were mechanics, teamsters, hunters, frontiersmen, carpenters, sailors, soldiers, accountants, bricklayers, blacksmiths, wagonmakers, lumbermen, joiners, dairymen, stockmen, millers, and engineers--varying in ability, temperament, and saintliness; they represented a cross section of humanity.
The numerical symmetry was not essential. Even before the group left Winter Quarters, three women and two children were added and a few days later one sick man returned to Winter Quarters. En route, nineteen men left the pioneers on other assignments and thirty persons were added. So the original 144 was augmented by 35 and decreased by 20, leaving a net gain of 15. A final group of 159 members entered the Valley of the Great Salt Lake in July 1847.
The unanticipated inclusion of three women and two children in an otherwise all-male venture was occasioned by the insistence of Young's younger brother, Lorenzo, that he be allowed to take his asthmatic wife, Harriet, and her two children. This, of course, necessitated including at least one or two other females to keep Harriet company. Fortuitously, Brigham had married Harriet's daughter, Clara Decker, so he took her. Kimball took Ellen Sanders, one of his sixteen wives. Her child, born February 13, 1848, was one of the first to be born in what is now Utah. Rank had its privileges.
The pioneers of 1847 were much better disciplined than was Zion's Camp of 1834, or the crossing of Iowa in 1846. This was in part the result of a revelation given to Brigham Young on January 14, 1847, at Winter Quarters--the only revelation Young ever published. It began, "The Word and Will of the Lord concerning the Camp of Israel in their journey to the west," and is known today as Section 136 of the Doctrine and Covenants. Basically the revelation gave details on camp organization. Equally important was the fact that the Mormons had learned valuable lessons while crossing Iowa, especially the value of discipline.
For a variety of reasons, including expense, the Mormons never hired professional guides or outfitters, although they consulted with them whenever possible. They preferred to "trust in the Lord" and pick up trail savvy as they moved along. Men were appointed to scout the trail and others to ride along the front, flanks, and rear--guarding and enclosing the moving camp in a box-like formation. Neither persons nor animals could be allowed to roam. Disreputable whites and Indians had to be kept at a safe distance, and wolves had to be restrained from picking off stray or weakened animals.
The scouting assignment was vital. Not that there was much chance of getting lost on the established trails the Mormons used, but water, feed, fuel, grades, crossings, and whatever might prove dangerous to man or beast had to be anticipated, found, and reported. Eight men were appointed to hunt on horseback and eleven to hunt on foot.
Contrary to myth and popular belief, this 1847 trek of approximately 1,032 miles and 111 days was not one long and unending trail of tears or a trial by fire. It was actually a great adventure. Over the decades, Mormons have emphasized the tragedies of the trail, and tragedies there were, but generally after 1847. Between 1847 and the building of the railroad in 1869, at least 6,000 died along the trail from exhaustion, exposure, disease, and lack of food. Few were killed by Indians. To the vast majority, however, the experience was positive--a difficult and rewarding struggle. Nobody knows how many Mormons migrated west during those years, but 70,000 people in 10,000 vehicles is a close estimate. To the 143 men, 3 women, and 2 children who left Winter Quarters, the 111-day pioneer trek of 1847 was mostly a great adventure, with a dramatic ending. One hundred and eleven days later Brigham Young entered the valley and declared, "This is the place, drive on."
The feelings of the female pioneers, the three who left Winter Quarters and the six who joined at Fort Laramie, were, naturally, somewhat different. At least two of them saw only a wilderness, a reptile's paradise. "I have come 1,200 miles to reach this valley and walked much of the way," Clara Decker, Young's wife, said, "but I am willing to walk 1,000 miles farther rather than remain here." Her mother, Harriet, echoingly said, "We have traveled fifteen hundred miles over prairies, desert, and mountains, but, feeble as I am, I would rather go a thousand miles farther than stay in such a place as this." Nevertheless, they stayed.
"PIONEER" COMPANY STATISTICS
The first company of pioneers consisted of 143 men, 3 women, and 2 children.
The oldest of the women, Harriet Wheeler Page Decker Young, age 44, was the wife of Lorenzo Young, Brigham's youngest brother. She arrived 8 month's pregnant. She was the mother of Clarissa Decker Young, Brigham's wife, who also came. Clarissa turned 19 on July 22nd. Harriet was the mother and step-mother of the two six-year old boys, Isaac Perry Decker, and Lorenzo Sobieski Young.
Ellen Sanders Kimball, born in Norway, was Heber Kimball's wife. She arrived 2 months pregnant.
Each man was hand-picked for his skills. The mean age was 32.4 years.
Three of the men were less than 18 years of age. Brigham Young was 46.
Five of the men were non-Mormons, four of whom were chosen for Orson Pratt's advance group..
Three of the men were African-Americans, all of whom were included in Orson Pratt's 43- man advance group.
Two-thirds had been born in the northeastern United States.
Three-fourths died in Utah.
The average age at death was 68.4 years.
Animals included: 66 oxen, 89 horses, 52 mules, 19 cows, and 17 dogs.
Total estimated cost of the company's inventory of food and supplies: $1,592.87.
Source:
Historic Resource Study - Mormon Pioneer National
By Stanley B. Kimball, Ph.D., May 1991. (The study focuses on the history of the trail from its official beginning in Nauvoo, Illinois, to its terminus in Salt Lake City, Utah, during the period 1846-1869. During that time, thousands of Mormon emigrants used many trails and trail variants to reach Utah. This study emphasizes the "Pioneer Route" or "Brigham Young Route" of 1846-1847. The sections on Mormon beliefs and motivations for going west have been omitted. Interested persons can find ample sources for that information. The footnotes, bibliography, maps, pictures, pioneer companies by name and dates for the 22-year period, and historic sites - about 2/3 of the book - have also been left out for space considerations. Thanks to Dr. Kimball and the National Park Service for the availability of this information.)