Pioneer Date Summary
05/06/1847 - Crockett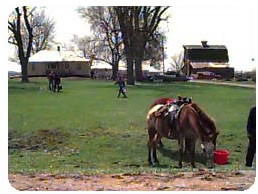 Description:
A saddled horse is eating. There is field, farm house, and barn in the background. People are standing in the field.
Image courtesy of:
Heritage Gateway Project Images, These images have been gathered to support the Sesquicentennial celebration of the immigration to Utah.
Location: Cozad, Nebraska - Location: 40:51:35N 99:59:13W Elevation: 2486 feet
Date: May 6, 1847
On the Platte River, Nebraska:
Some rain fell overnight which put out the prairie fire. The pioneers started the day's journey without feeding the animals because all the grass was gone. They traveled three miles and finally reached a point beyond the burned grass. They stopped to let the animals feed and to make breakfast. A young buffalo calf came into camp, following Luke Johnson. follow the company. Brigham Young instructed that it be placed in sight of its mother. They gave it some milk and then left it behind when they started again. George Brown and another man foolishly scared off the mother and later it was discovered that the calf was killed by a wolf.
After ten miles, they halted to rest on the prairie. Very little timber was seen. Two antelope were killed, but since there was plenty of meat in the camp, it was thought best to not kill any more buffalo until the meat was needed. Many buffalo were seen during the day. Some of the brethren walked very close to the herds and observed that the bulls were shedding their coats. The pioneer's herd of cows started to run among the buffalo, and great effort was spent to separate them. During the chase, Brigham Young lost a valuable spy glass.
The pioneers continued on. Wilford Woodruff wrote: "We continued to journey among the herds of buffalo & we are not out of sight of them at all. They have [ate] the grass out to such a degree that our cattle & horses can get but vary little to eat. We camped near a herd at night that reached as far as our eyes could extend. There were thousands in it."
William Clayton penned: "The prairie looks black with [buffalo], both on this and the other side of the river. Some think we have passed fifty, and some even a hundred thousand during the day, or have seen them. It is truly a sight wonderful to behold, and can scarcely be credited by those who have not actually seen them."
Orson Pratt recorded: "I think I may safely say, that I have seen 10,000 buffalo during the day. . . . One buffalo cow we found near our road, which seemed to be sick or weak through old age, although able to stand, yet she did not feel disposed to run; we gathered around her, while some caught her by the horns, but she was too weak and feeble to do any harm. We left her quietly to live or to die. . . . Young buffalo calves frequently came in the way, and we had to carry them to a distance from the camp to prevent them from following us, and being in our way."
Luke Johnson added, "The buffalo became very tame, the brethren would go to them when they would be lying down and stroke them with their hands and play with their calves."
"The South side of the River is very green & [has] much better grass than on the north side," wrote Thomas Bullock, "but we had rather go a little slower & continue making a new road on the North side for the future use of the Saints."
Sources:

Wilford Woodruff's Journal, 3:169-70
Howard Egan's Diary, Pioneering the West, 35
Watson, ed., The Orson Pratt Journals, 386-87
Luke S. Johnson Journal, typescript, BYU, 7
Bagley, ed., The Pioneer Camp of the Saints, 147-48
William Clayton's Journal, p.133
Source:
150 Years Ago Today
©These materials have been created by David R. Crockett. Copies of these materials may be reproduced for teacher and classroom use. When distributing these materials, credit must be given to David R. Crockett. These materials may not be published, in whole or part, or in any other format, without the written permission of Mr. Crockett, Tucson Az,
crockett@goodnet.com
.