Pioneer Date Summary
05/05/1847 - Crockett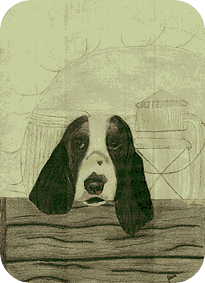 Description:
Line drawing by Jenni, a ninth grader from Central Davis Junior High.
Image courtesy of:
Heritage Gateway Project Images, These images have been gathered to support the Sesquicentennial celebration of the immigration to Utah.
Location: Lexington, Nebraska - Location: 40:46:51N 99:44:28W Elevation: 2389 feet
Date: May 5, 1847
On the Platte River, Nebraska:
The morning was warm, fifty-eight degrees. As the pioneers arose they saw a herd of buffalo nearby. At 8 a.m., they started their journey. They soon came to a bad swampy area and had to take a detour to the north in order to cross it. From there, the prairie was very soft and the horses feet cut deep into the sod.
After eight miles, a little before noon, they found some grass that had escaped the fire and stopped to let the teams feed. Two buffalo bulls approached the herd and men were sent to drive them off. Orders had been issued to not kill anything that could not be carried to the next camp. Wilford Woodruff wrote: "We rode up within 3 rods of one that was asleep, stopped & looked at him for some minutes. He awoke & shook himself & leaped off."
During the afternoon some of the hunters brought in a buffalo cow, five calves. Heber C. Kimball and Orrin Porter Rockwell caught a live calf which they hoped to try to raise. Wilford Woodruff wrote: "It would drink water out of a pail. They had some sport in trying to make it suck to a cow. It would try hard to bunt the men & dogs & some got hard raps." [They tied the calf to a stake that night and by the next morning it was dead.]
At 4 p.m., they reached the column of fire, running from the river to the north as far as they could see. They decided it would be safest to camp on the burned prairie, about a half mile back. Thomas Bullock wrote: "The teams then turned round & the Wind blew the ashes of the burnt grass in all directions which soon caused us to look like [Chimney] Sweeps. However by washing, after our halt, we were enabled to discern each other again." William Clayton commented the the brethren looked "more like Indians than white folks." They let the animals graze on some patches of grass until dark. Some of the horses were taken out to an island and cottonwood trees were cut down for them to browse on.
Garden Grove, Iowa:
Luman Shurtliff delivered the donated goods and money to the President of the settlement, President Fullmer. He distributed the goods to all the poor. Brother Shurtliff wrote, "Thus, the Lord provided for his poor saints at Garden Grove."
Mormon Battalion, at Los Angeles, California:
News arrived from San Diego that Lydia Hunter died. Nathaniel V. Jones was concerned about William and Melissa Coray. He had not heard from them and assumed that they must be sick.
Company B, Mormon Battalion, at San Diego, California:
When Robert Bliss woke up in the morning, he saw a signal flag on the fort signifying that a ship had been spotted. "I looked as far as the eye could discern and saw the white sails of a vessil approaching our Harbour; in a few hours She entered our Port.
Word came that a messenger had arrived at Pueblo [Colorado] from Winter Quarters with letters for the battalion. The battalion members in San Diego hoped that the news was true and that they would soon hear from their families.
Henry Bigler went with some of the men to find timber to make pack-saddles for their contemplated journey home soon. They could not find the right timber, so Henry went to the bay to hunt for clams. He found a skeleton of a whale with ribs nine feet long and nearly a foot wide. Parts of the backbone were carried back to the fort to be used for seats. The men were given permission to be hired to work for the citizens of San Diego.
Sources:

Watson, ed., The Orson Pratt Journals, 386
Wilford Woodruff's Journal, 3:169
Bagley, ed., The Pioneer Camp of the Saints, 147
Luman Shurtliff Autobiography, typescript, BYU-S, p.74
The Journal of Nathaniel V. Jones, Utah Historical Quarterly, 4:16
Journal Extracts of Henry W. Bigler, Utah Historical Quarterly, 5:60
The Journal of Robert S. Bliss, Utah Historical Quarterly, 4:92
Source:
150 Years Ago Today
©These materials have been created by David R. Crockett. Copies of these materials may be reproduced for teacher and classroom use. When distributing these materials, credit must be given to David R. Crockett. These materials may not be published, in whole or part, or in any other format, without the written permission of Mr. Crockett, Tucson Az,
crockett@goodnet.com
.