Pioneer Date Summary
05/02/1847 - Crockett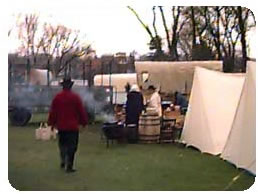 Description:
A meal is being prepared on the fire.
Image courtesy of:
Heritage Gateway Project Images, These images have been gathered to support the Sesquicentennial celebration of the immigration to Utah.
Location: Elm Creek, Nebraska - Location: 40:43:10N 99:22:18W Elevation: 2262 feet
Date: May 2, 1847
On the Platte River, Nebraska:
It was quite cold in the morning. Ice about a half inch thick was found in buckets. Just before breakfast, to the relief of the camp, Joseph Hancock arrived. He reported that he had shot a buffalo yesterday afternoon and became lost. He had built a fire, and warded off the wolves from his catch. Men were sent back to retrieve the meat but much of it had been eaten by wolves by the time they found it.
Even though it was Sunday, it was decided to work at cooking the buffalo meat and to move the camp to better location to feed the animals. Levi Jackman wrote "Our camp this morning had the appearance of a meat market. All hands were fixing their beef for cooking or drying and making ropes of the hides." In the afternoon, they traveled three miles and camped by a creek. Everyone went back to work putting up racks to dry the buffalo meat. The Buffalo calf caught the night before was killed and dressed. [This camp was located on Elm Creek, near the present-day Elm Creek, Nebraska].
After camp was established, a herd of buffalo came down from the bluffs to drink at the river. Some of the men were anxious to go after them, but Brigham Young forbid them, reminding them that it was the Sabbath.
Ahead, the prairie was on fire, burning rapidly. Brigham Young and Heber C. Kimball went a few miles ahead to examine the fire and the trail ahead. They decided the the pioneers should spend another day at this camp to do some blacksmith work and hunt some more.
Levi Jackman enjoyed the buffalo meat: "The buffalo meat came good to us, for Curtis and myself had lived on cornmeal bread and water porridge for some time; only we could get a little milk of Brother John Brown, to put in it. When he could spare it he would give us some. I shall never forget his kindness to us."
Winter Quarters, Nebraska:
Parley P. Pratt spoke to the Saints gathered at Winter Quarters. "I want the brethren to take care of their cattle, and not let the Indians kill them all off, to build pickets round the city to prevent them from coming in to your houses and insulting your woman and children or robbing your tables while they are out tending their gardens." He wanted a company to be prepared to leave for the mountains on June 1. John Taylor also spoke. W.W. Phelps reported that General John J. Harding, who they knew from Nauvoo during the fall of 1845, who had been the commander of the Illinois state militia, had been killed in a battle between Zachary Taylor and Santa Ana. Hosea Stout wrote that this news was "a joy to me."
Elder Lyman Littlefield, still preparing to leave on his mission, was invited for dinner at Mary Richards new home. She wanted him to take word to her missionary husband that she was comfortable in a house and doing well.
Summer Quarters, Nebraska:
At 11 a.m., the Saints gathered for a Sunday service. John D. Lee preached on Priesthood duty. "We are messengers of salvation and special witnesses to the nations of the earth and have been called from darkness to the marvelous light of the everlasting gospel of peace to perform a certain work in this the dispensation of the fullness of times."
Mormon Battalion, at Los Angeles, California:
Henry Standage wrote: "For the last two days I have been more or less through the city of Angels . . . and must say they are the most degraded set of beings I ever was among. . . . There are almost as many grog shops and gambling houses in this city as there are private houses. . . . The Spaniards conduct in the Grog shops with the squaws is really filthy and disgusting even in the day time. Gambling is carried to the highest pitch, men often losing 500 dollars in cash in one night, or a 1000 head of cattle. All kinds of clothing is very cheap and cattle and horses very cheap."
Company B, Mormon Battalion, at San Diego, California:
Major Cloud arrived from Los Angeles with pay and letters. They were informed that the rest of the battalion was preparing for a possible attack from John C. Fremont's troops, "swearing they will kill every damned Mormon in the country." It was also rumored that the Mexicans were coming to retake San Diego.
Sources:

Wilford Woodruff's Journal, 3:165-66
Howard Egan's Diary, Pioneering the West, 32-3
Diary of Lorenzo Dow Young, Utah Historical Quarterly, 14:156
William Clayton's Journal, p.124
Levi Jackman Autobiography, typescript, BYU-S, p.29
Kelly, ed., Journals of John D. Lee, 1846-1847 and 1859, 159
Ward, ed., Winter Quarters, The 1846-1848 Life Writings of Mary Haskin Parker Richards, 122
Journal of Henry Standage in Frank Alfred Golder, The March of the Mormon Battalion, 220-21
Journal Extracts of Henry W. Bigler, 5:60-1
The Journal of Robert S. Bliss, The Utah Historical Quarterly, 4;92
Brooks, On the Mormon Frontier, The Diary of Hosea Stout, 1: 253
Source:
150 Years Ago Today
©These materials have been created by David R. Crockett. Copies of these materials may be reproduced for teacher and classroom use. When distributing these materials, credit must be given to David R. Crockett. These materials may not be published, in whole or part, or in any other format, without the written permission of Mr. Crockett, Tucson Az,
crockett@goodnet.com
.