Pioneer Date Summary
05/03/1847 - Crockett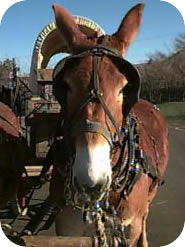 Description:
A mule from Daniel's wagon on the day of the media rollout at Indian Hills Elementary School.
Image courtesy of:
Heritage Gateway Project Images, These images have been gathered to support the Sesquicentennial celebration of the immigration to Utah.
Location: Elm Creek, Nebraska - Location: 40:43:10N 99:22:18W Elevation: 2262 feet
Date: May 3, 1847
On the Platte River, Nebraska:
The morning was cold, with ice in the water buckets. Thomas Tanner and James Davenport put of their portable forges to repair some of the wagons. Three buffalo were spotted heading to the bluffs. The camp rested for the day at this spot because the grass was very good at this location for the animals to feed on.
Twenty hunters went off at 9 a.m. on foot with two wagons to bring in game. Wilford Woodruff started out with the hunters, but he had jarred himself badly during the buffalo chase on Saturday and was pained in his side, where he had been serious injured the previous fall. The hunters went into the bluffs and separated into two groups. They traveled through the hills but only spotted antelope and wolves. After awhile, Wilford Woodruff felt so poorly, that he decided to head back with Amasa Lyman and three others.
After the hunters had left camp in the morning, Erastus Snow was directed by Stephen Markham to take fifteen horsemen up the river for ten or fifteen miles to see if Indians were nearby and to determine how widespread the prairie fire was. "We went according to directions about ten miles, and found only here and there a patch of grass not burned, but fire still raging in different directions, and as far as we could see up the river fresh fires and smoke were rising." William Empey spotted two antelope and took off after them. He ascended a hill and as he looked down on the flat, he spotted a war party of about 400 Indians. They appeared to be waiting to ambush the men on horses. Brother Empey returned to the scouting party and they all returned quickly to the camp, arriving at 2:30 p.m. On the way back they were followed by about 100 Indians down a ravine who they supposed hoped to rob their horses and take their lives. They shared the alarming report and also mentioned there would still be enough grass ahead for the teams, despite the fire.
Brigham Young immediately sent twenty-three well-armed men on horses to retrieve those who had been sent out to hunt buffalo. They found the men within four miles. The horsemen took the opportunity to do a little hunting. Some buffalo calves were spotted. William Dykes dismounted his mule in order to get a better shot. His mule broke away and ran after the fleeing buffalo. Stephen Markham, on his horse, pursued the mule and caught it after three miles. They all returned at dusk with three calves and four antelope.
The cannon was prepared and fired at 9 p.m. to give the Indians a signal that the pioneer company was armed and ready.
Sources:

Erastus Snow Journal Excerpts, Improvement Era 14:927
Luke S. Johnson Journal, typescript, BYU, 5-6
Howard Egan Diary, Pioneering the West, 33
Wilford Woodruff's Journal, 3:166-67
Bagley, ed., The Pioneer Camp of the Saints, 144
William Clayton's Journal, p.126
Knight and Kimball, 111 Days to Zion, 67
Source:
150 Years Ago Today
©These materials have been created by David R. Crockett. Copies of these materials may be reproduced for teacher and classroom use. When distributing these materials, credit must be given to David R. Crockett. These materials may not be published, in whole or part, or in any other format, without the written permission of Mr. Crockett, Tucson Az,
crockett@goodnet.com
.