Pioneer Date Summary
05/16/1847 - Crockett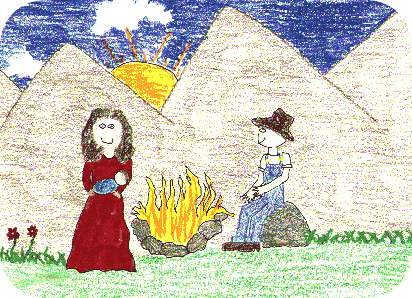 Description:
Crayon and pen drawing by April, a 5th grader from Barnett Elementary.
Image courtesy of:
Heritage Gateway Project Images, These images have been gathered to support the Sesquicentennial celebration of the immigration to Utah.
Location: Paxton, Nebraska - Location: 41:07:27N 101:21:21W Elevation: 3054 feet
Date: May 16, 1847
On the North Platte River, Nebraska:
Some frost fell overnight as it continued to be quite chilly. Since it was Sunday, the pioneers rested. The baked for the coming week, washed, and made other preparations. A buffalo game near the camp and was shot by Eric Glines. He also went out a shot an antelope. Wilford Woodruff did not approve of this hunting on the Sabbath which was against the rules of the camp.
Brigham Young, Heber C. Kimball, Wilford Woodruff, Ezra T. Benson, Albert P. Rockwell, and Roswell Stephens rode four miles over the bluffs ahead to pick out a route for the following day. They found a good road that passed through a valley between some bluffs.
William Clayton wrote: "About noon today Brother Appleton Harmon completed the machinery on the wagon called a "roadometer" by adding a wheel to revolve once in ten miles, showing each mile and also each quarter-mile we travel, and then casing the whole over so as to secure it from the weather. . . . I have prepared another board to put up here on which the distance from Winter Quarters is marked at 356 3/4 miles."
In the afternoon a meeting was held, the boat wagon used for a stand. Speakers included Willard Richards, Stephen Markham, Albert Rockwell, and Heber C. Kimball. President Kimball said that he had never traveled in a company that behaved themselves as well as these pioneers. They were "like clay in the hands of the potter; they could be made into any thing that the Potter wanted to make of them." He further stated: "The angels were about the camp, and when a faithful servant of God, who was diligent in obeying the instructions of the President, was in danger, swift messengers would be sent by the Lord, saying, 'go and ward off the destroyer from that servant and let him live for he will do my cause good." He said that he had prayed that the Indians would turn to the right and to the left, that they might pursue their journey in peace. He cautioned them brethren against the use of profane language and said that the angel of the Lord would turn away from a man that would swear and take the name of the Lord in vain."
The laws and regulations of the camp were read. Lorenzo Dow Young wrote: "All seemed to feel well in spirit and we're united in feeling the same intrest to go ahead. The Lord is with us." Wilford Woodruff added: "The channel of the teaching was to hearken to council & sustain the Heads of the Church & go do what was said unto us & it would prove A Blessing unto us."
William Clayton recorded: "After supper Elder Whipple made me a present of a half a candle made from buffalo tallow, by the light of which I continue this journal. Although, as may be expected, the buffalo are generally poorer at this season of the year, yet Brother Whipple has obtained sufficient to make two candles from his portion of meat received yesterday morning. The candle burns very clear and pleasant. The tallow smells sweet and rich. I imagine it has a more pleasant smell than the tallow of domestic cattle."
Company B, Mormon Battalion, at San Diego, California:
Robert S. Bliss wrote, "To day went down to the coast & when I returned I found a letter from my companion; which had came over the mountains to me by the express; It gave me great joy to hear from them once more; it being the first time I have heard from them for 10 months." Word was also received that General Kearny and Colonel Cooke were leaving for Washington, D.C.
Mormon Battalion detachment of General Kearny:
The detachment of battalion men marching to Monterey arrived at Santa Barbara.
Sources:

Autobiography of John Brown, 74
Howard Egan's Diary, Pioneering the West, 40
Wilford Woodruff's Journal, 3:177
Bagley, ed., The Pioneer Camp of the Saints, 156
Private Journal of Thomas Dunn, typescript, 25
Source:
150 Years Ago Today
©These materials have been created by David R. Crockett. Copies of these materials may be reproduced for teacher and classroom use. When distributing these materials, credit must be given to David R. Crockett. These materials may not be published, in whole or part, or in any other format, without the written permission of Mr. Crockett, Tucson Az,
crockett@goodnet.com
.