Pioneer Date Summary
05/17/1847 - Crockett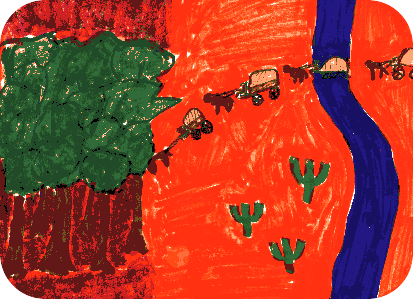 Description:
Colored marker picture by Anthony, a 4th grader.
Image courtesy of:
Heritage Gateway Project Images, These images have been gathered to support the Sesquicentennial celebration of the immigration to Utah.
Location: Keystone, Nebraska - Location: 41:12:58N 101:34:59W
Date: May 17, 1847
On the North Platte River, Nebraska:
The morning was cold, thirty-eight degrees, with a chilly wind. Willard Richards left another letter at the camp for the companies that follow. It was put in a box attached to a pole. It included extracts from the camp journal kept by Thomas Bullock. The letter box was directed to "C.C. Rich & Company" and on the other side was inscribed, "North Fork Letter Box."
Soon after they started for the day, the pioneers arrived at some bluffs which extended all the way down to the river. They crossed a stream and started to ascend the sandy bluffs. William Clayton wrote: "On these sandy bluffs, there are very many small lizards about four or five inches long from nose to the end of the tail, which is an inch and a half long. The body looks short and chunky and is of a light grey color with two rows of dark brown spots on each side of the body which make it appear striped. The head is shaped something like the head of a snake. They appear perfectly harmless and are pretty in appearance." They crossed over the bluffs without difficulty and found very good grass on the west side. The bottoms were mashy which made it "soft wheeling among the sloughs."
At 11:45 a.m., the pioneers stopped to feed the animals after traveling almost seven miles. Howard Egan and Phinehas Young traveled back to get some water at the headwaters of a stream. They found "five boiling springs, boiling up several inches." One of Phinehas Young's horses became mired in a swamp and had to be hauled out with ropes by several of the men.
At 1:40 p.m., the journey continued on this warm afternoon. They soon came to a stream about thirty feet wide, but very shallow. They crossed without difficulty, came to some hills and crossed more steams. At 3:40 p.m., the wagons halted as word came that the hunters had killed a buffalo and two men were sent back to get it. About the same time Revenue Cutter arrived with two buffalo and an antelope. Brigham Young was not pleased that the camp was detained because he felt that they already had enough meat.
The wagons continued their journey until 6 p.m. The day's journey covered nearly thirteen miles. The camp was established about a half mile from the river. As usual, wells of about four feet deep were dug to obtain water close to the camp. Wilford Woodruff wrote: "We saw very large droves of deer to day in the bottom the most we have ever seen any day on the road. A young fawn was picked up & brought into camp & kept." The fawn was caught by Roswell Stevens and Lorenzo Young hoped to raise it.
Sources:

Howard Egan's Diary, Pioneering the West, 42
Wilford Woodruff's Journal, 3:178
Erastus Snow Journal Excerpts, Improvement Era 14:1023
Bagley, ed., The Pioneer Camp of the Saints, 157
William Clayton's Journal, 153-56
Source:
150 Years Ago Today
©These materials have been created by David R. Crockett. Copies of these materials may be reproduced for teacher and classroom use. When distributing these materials, credit must be given to David R. Crockett. These materials may not be published, in whole or part, or in any other format, without the written permission of Mr. Crockett, Tucson Az,
crockett@goodnet.com
.