Pioneer Date Summary
04/14/1847 - Crockett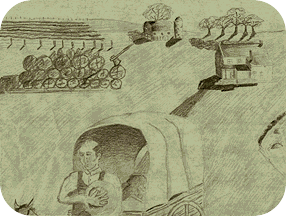 Description:
Line drawing by Brandon, a ninth grader from Central Davis Junior High.
Image courtesy of:
Heritage Gateway Project Images, These images have been gathered to support the Sesquicentennial celebration of the immigration to Utah.
Location: Fremont, Nebraska - Location: 41:26:00N 96:29:52W Elevation: 1195 feet
Date: April 14, 1847
Liberty Pole Camp, Nebraska:
It rained for awhile in the morning but later cleared. John S. Higbee, Jackson Redden and others went up the Platte River to find a place to fish. They returned in the evening with two dozen fish. Howard Egan's horses strayed. He took one of Brother Redden's horses, traveled back toward the Elkhorn river and found them. He only succeeded catching one of them.
Winter Quarters, Nebraska:
A council meeting was held in the morning and then preparations were made by the pioneers to make their final departure from Winter Quarters. Wilford Woodruff called his family together, blessed his wife and children and "left them in the hands of the Lord."
George A. Smith wrote in his journal, "Took my leave of my family and started for my camp about 9 o'clock a.m. Left my youngest child, Nancy Adelia with inflammation of the brain; it was the opinion of most that she would not live but a few hours. [She died three days later]. Two others of my family were sick. I left corn meal enough to last my family three days, but no other provisions."
Members of the Twelve and other pioneers started their journey to overtake the pioneer company. One group, including Orson Pratt, Wilford Woodruff, George A. Smith, Erastus Snow, Amasa M. Lyman, John Brown and others traveled on horseback on the Indian trail and soon reached the Elkhorn river. They crossed over on a raft and camped two miles below the ferry, near the Platte River. They had a "splendid supper" of catfish, pork, and beans.
Back at Winter Quarters, Brigham Young and Willard Richards visited William Clayton at 11 a.m. They told him to "rise up" and leave with the pioneers in a half hour. President Young also took time to stop and say good-bye to Eliza R. Snow.
Albert P. Rockwood left Winter Quarters driving the "boat wagon." This was a wagon made from a large leather boat which had been used to cross the Missouri River.
Another group left Winter Quarters at 2 p.m. and traveled in the carriages and wagons and went about nineteen miles and camped on the prairie. This group included Brigham Young, Heber C. Kimball, William Kimball, Ellen Sanders Kimball, Newel K. Whitney, Ezra T. Benson and William Clayton.
West of Winter Quarters, Nebraska:
Appleton Harmon, Addison Everett, Norton Jacob, and Roswell Stephens arose and made their breakfast in their camp four miles west of Winter Quarters. As they were preparing the leave, they discovered four Omaha Indians on the ridge south of them. They soon came into the pioneers' camp and started begging for food. The pioneers tried to explain that they were going where no food could be obtained and needed everything that they had. Norton Jacob wrote that they "were very saucy because we would not give them our provisions." The Indian's insisted and threatened to shoot a cow. Brother Harmon gave them each an ear of corn, but they refused to leave until they were each given another ear.
Once they left, the pioneers started their journey. They traveled about twenty-one miles. During their travels, Brigham Young and about twenty others passed them on horses. Brother Harmon's company continued to travel after dark until they caught up with Brigham Young's group. They camped in a deep hollow by the road.
The Omaha Indians also bothered Thomas Bullock and George D. Grant's company that morning. Brother Bullock wrote: "While I was in the act of hitching my cattle, four Omaha Indians came rushing down upon us, waving their standards covered with turkey feathers and hallooing and yelling like savages." The cattle broke away from the wagon and run two to three miles back toward Winter Quarters. Brother Bullock was able to turn them back after losing an hour.
During that time one of the Indians drew his bow and arrow and threatened to shoot one of the oxen. The brethren had to give the Indians some bread to calm the appease them. But even after that, one Indian wanted to take the front of Brother Bullock's wagon cover to make a headdress. Brother Bullock would not let him and he went away angry.
The brethren quickly hitched their wagons and moved on. They stopped to feed their cattle at Little Papillion creek, when on and crossed Big Pappion Creek. Brigham Young, Heber C. Kimball, and Ezra T. Benson passed them at 6 p.m. The Bullock company stopped at the next creek to establish the night's camp. But Albert P. Rockwood and Lorenzo D. Young came by in the "boat wagon" so the Bullock company pressed on and reached Brigham Young's camp.
Summer Quarters, Nebraska:
The day was spent building and planting. At about dusk, David Young arrived with his two sisters.
Company B, Mormon Battalion, at San Diego, California:
William Garner baptized a marine from the "Congress" named Beckworth. The men believed that this was the first person baptized in California. [They neglected to consider that the "Brooklyn" Saints had been in California since July 31, 1846, and probably had already found converts.] Henry W. Bigler wrote: "By this time we had become very short of everything and no money to buy more and everything we had in the clothing line was in rags. We were forced to cut up our tents to make shirts and pants and this too, contrary to the wishes of our Captain."
Sources:

Watson, ed., Manuscript History of Brigham Young, 548
Wilford Woodruff's Journal, 3:148
Diary of Howard Egan, Pioneering the West, 23
Kelly, ed., Journals of John D. Lee, 1846-1847 and 1859, 150
William Clayton's Journal, 3:74
Appleton Milo Harmon Goes West, 15
Beecher, The Personal Writings of Eliza R. Snow, 166
Nibley, Exodus To Greatness, 361-63
Our Pioneer Heritage, Vol. 8, p.243
Jenson, Day By Day With the Utah Pioneers, 10
Journal Extracts of Henry W. Bigler, Utah Historical Quarterly, 5:60
Autobiography of Pioneer John Brown, 73
Source:
150 Years Ago Today
©These materials have been created by David R. Crockett. Copies of these materials may be reproduced for teacher and classroom use. When distributing these materials, credit must be given to David R. Crockett. These materials may not be published, in whole or part, or in any other format, without the written permission of Mr. Crockett, Tucson Az,
crockett@goodnet.com
.