Pioneer Date Summary
05/21/1847 - Crockett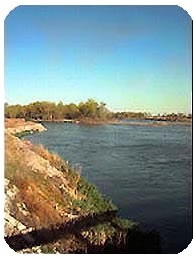 Description:
The Platte River.
Image courtesy of:
Heritage Gateway Project Images, These images have been gathered to support the Sesquicentennial celebration of the immigration to Utah.
Location: Oshkosh, Nebraska - Location: 41:24:18N 102:20:38W
Date: May 21, 1847
On the North Platte River, Nebraska:
William Clayton put up a guide board for the next company that read: "From Winter Quarters, 409 miles; from the junction of the North and South forks of the Platte, 93 1/4 miles; Cedar Bluffs on east side of river and Ash Hollow 8 miles; Camp of Pioneers, May 21st 1847, According to Fremont, this place is 132 from Laramie. N.B. -- The bluffs on the opposite side are named Castle Bluffs."
The pioneers moved out of camp at 7:35 a.m. and traveled over a very wet prairie with many ponds of water. Erastus Snow wrote: "Today has seemed more like spring than any day since we left Winter Quarters -- not only warm and pleasant, but on every hand have we been greeted for the first time with the music of the quadrupeds [frogs] from the numerous little ponds along the bottoms." After traveling seven and a half miles, they stopped at 11:15 a.m. for dinner.
Brigham Young and Heber C. Kimball rode ahead to pick out the next road. They came across a nest of wolves and killed two of them. Heber C. Kimball caught one of them by the tail.
At 1:30, the company continued their journey over the wet prairie with high old grass. Very few Buffalo were seen during the day. Wilford Woodruff killed a badger with the jaw bone of a buffalo.
Willard Richards found a large petrified bone. Thomas Grover reported that it was a shoulder bone and must have belonged to an animal bigger than an elephant. Orson Pratt believed it belonged to a mammoth and that it was a lower leg bone. It was 17 1/2 inches, 11 inches at the greatest width, at most 6 inches thick. It weight 27 pounds. He wrote: "It is a curious specimen of ancient zoology, and if circumstances would permit, worthy of preservation."
William Clayton recorded: "As I was walking along and looking over the river, I heard a rattlesnake, and looking down saw that I had stepped within a foot of it. It rattled hard but seemed to make away. We threw it away from the track without killing it."
After a total of fifteen and a half miles, they stopped to camp for the night. [Their camp was a few miles west of present-day Oshkosh, Nebraska.] Soon a Sioux Indian and his wife came from the bluffs, riding toward the camp, making signs for men to follow them to a party of Indians on the bluff. President Young would not allow them to come into the camp. Howard Egan wrote: "The Indian was well dressed. Their horses appear to be work horses, which I presume they had stolen from some travelers." After a half hour, they left.
William Clayton described: "We can see some timber on the bluffs on the other side of the river some miles ahead which is the first timber we have seen for more than a week, except some small cedar and the timber in Ash Hollow, all on the south side the river. We are nearly a mile from water and the brethren have to dig wells to obtain a supply for cooking." Thomas Bullock reported: "After sunset a full frog symphony, full of music and variety." The brethren set the prairie on fire to burn off the old grass for the companies that would follow.
Winter Quarters, Nebraska:
Mary Richards went the the Winter Quarters store in the afternoon and bought some calico for aprons, cotton cloth to line her dresses, and some candle weaking thread. She then went to visit the Abott's and there met for the first time Martha Monks Pratt, Parley P. Pratt's newest wife who had recently arrived from England. Sister Richards then went to the Pratts and had a nice visit with all of the ladies there. Martha told Sister Richards that she loved her because she came from England too.
Summer Quarters, Nebraska:
The fisherman tried to fish at a new place on the river but did not have any success so they went back to the old place in the afternoon. John Holman arrived at Summer Quarters to farm with Charles Kennedy.
Kearny Mormon Battalion detachment, California:
The detachment came to the Mission of San Margaretha.
Sources:

Wilford Woodruff's Journal, 3:180
Howard Egan's Diary, Pioneering the West, 45-6
Erastus Snow Journal Excerpts, Improvement Era 14:1100
Bagley, ed., The Pioneer Camp of the Saints, 161-62
Watson, ed., The Orson Pratt Journals, 401-02
Ward, ed., Winter Quarters, The 1846-1848 Life Writings of Mary Haskin Parker Richards, 142
William Clayton's Journal, 166-69
Kelly, ed., Journals of John D. Lee, 1846-1847 and 1859, 170
Journal of Henry Standage in Frank Alfred Golder, The March of the Mormon Battalion, 223
The Journal of Nathaniel V. Jones, Utah Historical Quarterly, 4:17
Source:
150 Years Ago Today
©These materials have been created by David R. Crockett. Copies of these materials may be reproduced for teacher and classroom use. When distributing these materials, credit must be given to David R. Crockett. These materials may not be published, in whole or part, or in any other format, without the written permission of Mr. Crockett, Tucson Az,
crockett@goodnet.com
.