Pioneer Date Summary
05/20/1847 - Crockett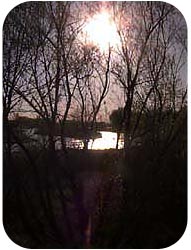 Description:
The Platte River at sun rise--start of a new day.
Image courtesy of:
Heritage Gateway Project Images, These images have been gathered to support the Sesquicentennial celebration of the immigration to Utah.
Location: Ash Hollow (Lewellen) - 633 miles left, Nebraska - Location: 41:19:53N 102:08:36W (south side of the river. So named from a grove of timber growing on it. It occupies a space of about fifteen to twenty acres, and is surrounded by high bluffs.)
Date: May 20, 1847
On the North Platte River, Nebraska:
At 5 a.m., the temperature was forty-five degrees. After the pioneers broke their camp, in less than a mile they had to cross a stream eight feet wide which was quite deep. The roadometer broke down, as one of the teeth on a cog broke because of the recent rains. William Clayton and Appleton Harmon worked at repairing it while the other wagons passed by. Brother Clayton wrote: "We stopped about a half an hour and Appleton Harmon took it to pieces and put it up again without the small wheel. I had to count each mile after this."
They traveled about eight miles in the morning and then halted for the noon rest across the river from the point where the Oregon Trail comes to the North Fork of the Platte River. Orson Pratt wrote: "A short distance below our noon halt, we passed a lonely cedar tree, upon the north bank of the river, in the branches of which were deposited the remains of an Indian child, with which were also deposited the necessary equipments (according to Indian traditions) to a future land of enjoyment." Lorenzo Dow Young added this account: "Found a large Ceder tree, which was the first tree we had found in traveling more than one hundred miles. They found an Indian coffin in the top of it. By examining it they found the bones of a child wrapped in skins to secure it from the birds of prey, and with the bones a spoon made of horn and a ball."
When they halted for the noon rest, John Brown thought that they might be across the river from a place called Ash Hollow, where the Oregon Trail joins the North Platte. They wanted to be sure, so they could test Fremont's map on the way to Fort Laramie. The leather boat was launched and Orson Pratt, Amasa Lyman, Luke Johnson, and John Brown crossed over the river. William Clayton recorded: "The current was so exceedingly strong the oars had no effect. John Brown then jumped into the river which was about two and a half feet deep and dragged the boat over, the others assisting with the oars. After some hard labor they arrived on the opposite shore and went to the hollow. They soon found the Oregon trail and ascertained that this is Ash Hollow, Brother Brown having traveled on that road to near Laramie last season with the Mississippi company and knew the place perfectly well. They gathered some branches of wild cherry in full bloom, rambled over the place a little while and then returned to camp." While across the river, Brother Brown found the grave on an Oregon emigrant, buried the previous summer. Brother Brown had helped to dig the grave. According to Fremont's map, they were 140 miles from Fort Laramie.
The pioneers continued their journey at 2 p.m., crossed a wide stream which they called Castle Bluff River, and continued on until 5:30. There was a light rain shower during the afternoon. They camped in a circle about a quarter mile from the river. Many of the men went to the beach to gather driftwood for fuel.
Wilford Woodruff wrote of the scenery during the day: "We have passed a good deal of rock bluff on both sides of the river, & some on the south side of the river was formed into natural terrices, rotundas, squairs &c, 50 or 100 feet high. Looked like good foundations to build forts & fortications & strong holds upon. They resemble the work of art & look like the old castles of England & Scotland. They were level on the top."
Winter Quarters, Nebraska:
Mary Richards learned that Joseph A. Stratton was going to preach at the funeral of Isaac Davis, so she got ready and went to the service with Sarah Rich. Just as they sat down, Jane Richards called Mary Richards out of the house where the service was being held. Jane, her sister-in-law, gave her a letter from Mary's husband, Samuel W. Richards, that Orson Pratt had brought from England. Elder Pratt had mentioned to Jane that Samuel had been very sick with small pox when Elder Pratt left England. His brother Franklin had been sent to care for him. When Orson Hyde was in New York, he received a letter from Franklin Richards stating that Samuel was getting better. This news distressed Mary because her husband never mentioned any serious illness in his letters to her. "To hear that he was sick made me feel very very sorrowfull. I wished oh! how much I wished that I could fly to his assistance, to watch by his bed and comfort him in the hour of his affliction. Oh My Father in Heaven do though look down upon him I but Intreat thee." After reading her letter from her husband, she returned to the funeral service had heard Elder Stratton give an interesting sermon.
Summer Quarters, Nebraska:
Several men went on a fishing expedition. They included Brother Burgess, Allen Stout, J. Anderson, J. Woolsey, Joseph Busby and Samuel Gully. They had "moderate" success. David Young found signs that a Sioux Indian had stolen one of John D. Lee's horses.
Sources:

Watson, ed., The Orson Pratt Journals, 400-01
Appleton Milo Harmon Goes West, 20
Diary of Lorenzo Dow Young, Utah Historical Quarterly, 14:158-59
Wilford Woodruff's Journal, 3:179-80
Howard Egan's Diary, Pioneering the West, 44-5
William Clayton's Journal, p.163-66
Ward, ed., Winter Quarters, The 1846-1848 Life Writings of Mary Haskin Parker Richards, 141-42
Kelly, ed., Journals of John D. Lee, 1846-1847 and 1859, 169
Source:
150 Years Ago Today
©These materials have been created by David R. Crockett. Copies of these materials may be reproduced for teacher and classroom use. When distributing these materials, credit must be given to David R. Crockett. These materials may not be published, in whole or part, or in any other format, without the written permission of Mr. Crockett, Tucson Az,
crockett@goodnet.com
.