Pioneer Date Summary
04/27/1847 - Crockett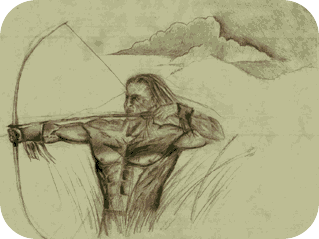 Description:
Line drawing by David, a ninth grader at Central Davis Junior High.
Image courtesy of:
Heritage Gateway Project Images, These images have been gathered to support the Sesquicentennial celebration of the immigration to Utah.
Location: Chapman, Nebraska - Location: 41:01:27N 98:09:32W Elevation: 1767 feet
Date: April 27, 1847
On the Loup Fork, Nebraska:
During the early morning hours, the guard fired guns twice, but concluded the noise was wolves. Before breakfast, William Clayton and Porter Rockwell went back to see if they could find the tracks of the two lost horses. One of the trails was found, but they returned because they did were not armed. At 8:30 a.m., the wagons rolled out of camp. They crossed the creek, left the Loup Fork, and started heading southwest toward the Platte River. The country was dry, sandy, and barren. Not a tree could be seen.
William Clayton wrote: "President Young and Kimball discovered a dog town a piece back, and many little prairie dogs. In one hole was a very large rattlesnake, and around the holes many small owls which seem to correspond with what travelers have said previously--that the prairie dog, rattlesnakes, and owls all live in the same hole together."
After traveling twelve miles, the pioneers stopped at 2:30 p.m. near a ravine to rest and feed the animals. They had to dig wells to find water. From this point they could see a good view of the Platte in the distance. Orrin Porter Rockwell, Thomas Brown, Joseph Matthews, and John Eldredge were sent back in an attempt to find the lost horses.
At 3:15, the wagons were on the move again. The afternoon was hot, eighty-seven degrees. The roads were dusty. Wilford Woodruff and others shot an antelope. "Just as we were starting in the afternoon, we rose a small bluff & saw two Antelope before us in the valley. . . . Br Brown first fired upon him. Another man & myself fired also. We all hit him with our balls but he did not fall." They rode up, finished it off, skinned it, loaded the meat into the wagons and continued on. This was the first antelope killed by the pioneer company.
The night's encampment was formed at 5:30 p.m. near a beautiful prairie stream. They had difficulty finding wood for fire. Some of the ox teams had failed during the day from lack of water, so horses had to be sent back to help them catch up.
Soon, Porter Rockwell and the others returned from their search for the horses. They found the trail of the two horses and came within a mile of Saturday's camp. They noticed something black just ahead of them in the tall grass. Thomas Bullock gave this action-packed version: "Porter Rockwell thought he saw a Wolf, determined to shoot it, descended from this horse, levelled his gun to fire, which brought up the resurrection of 15 Pawnee Indians, who [were] running to seize his & Mathews' horses; Rockwell jumped on his horse & levelled his pistol, which caused them to draw back. The 15 Indians were armed with Bows & Arrows & Guns, Ready for fight, but were bluft by the 4 brethren. The Indians got enraged, retreated about 50 yards, & fired 6 Guns at the brethren, sending the balls whistling close by their heads." Nothing was seen of the lost horses and it was concluded that the Indians had stolen them. Some of these Indians were recognized as being the same Pawnee who greeted the pioneers near the Pawnee village and had eyed the horses. They had probably followed the pioneers closely for days.
John Brown wrote of an accident that even that caused the loss of the fourth horse in four days. "I accidentally fired a gun and the shot broke a horse's leg, after setting a sack of clothes on fire. It was Brother Ivory's gun. He had put it into the wagon loaded and capped. I was drawing my coat out which caught the hammer and fired it off in the wagon." The horse belonged to Lewis Barney. The fire was quickly put out.
Luke Johnson shot a very large rattlesnake which he brought into camp to be used for oil. Roswell Stevens killed a hare. A storm blew in during the evening. The wind blew very hard. All the men had to lock the wagon wheels to prevent them from rolling during the storm. There was much lightning and thunder, but very little rain.
Winter Quarters, Nebraska:
Hosea Stout and the city marshal, Horace Eldredge, went to the ferry and told Brother Higbee (the ferry operator) not to take anyone across who had not paid their city tax. Brother Stout explained, "for there were now great numbers going off through disafection & we took this plan to secure their portion of supporting the police. Some paid it willingly while others made bitter complaints."
Mormon Battalion, at Los Angeles, California:
Rumors were received that Company C and James Pace's detachment had been attacked by Mexicans at Cajon Pass.
Cajon Pass, California:
James S. Brown wrote that Company C and James Pace's detachment left Cajon Pass as ordered. They were not attacked by Mexicans but were persued by another hostile force. "On our march out, the wild cattle, which were there by thousands, became excited and began to bellow and crowd toward us. We could see them for miles coming on the run. They closed in quickly until we were surrounded by them on three sides, with a deep gulch or very brushy ravine on the fourth. We retreated in double-quick time to this gulch, and were compelled to remain in what shelter it afforded until the next day, before we could pass on in safety."
Company B, Mormon Battalion, at San Diego, California:
Sister Lydia Hunter was buried. William Hyde spoke on the resurrection. She was buried near the harbor, at Point Loma where fallen soldiers had been buried.
Sources:

Diary of Howard Egan, Pioneering the West, 30
Autobiography of John Brown, 74
Erastus Snow Journal Excerpts, Improvement Era 14:820-21
Charles Harper Diary, 19-20
Bagley, ed., The Pioneer Camp of the Saints, 134-35
Wilford Woodruff's Journal, 3:161-62
Luke S. Johnson Journal, typescript, BYU, 4
William Clayton's Journal, 107-11
Brooks, On the Mormon Frontier, The Diary of Hosea Stout, 1: 252-53
Brown, Giant of the Lord, 92-3
Private Journal of Thomas Dunn, typescript, 24
The Journal of Robert S. Bliss, Utah Historical Quarterly, 4:91
Ricketts, The Mormon Battalion, U.S. Army of the West, 1846-1848, 136
Source:
150 Years Ago Today
©These materials have been created by David R. Crockett. Copies of these materials may be reproduced for teacher and classroom use. When distributing these materials, credit must be given to David R. Crockett. These materials may not be published, in whole or part, or in any other format, without the written permission of Mr. Crockett, Tucson Az,
crockett@goodnet.com
.