Pioneer Date Summary
04/28/1847 - Crockett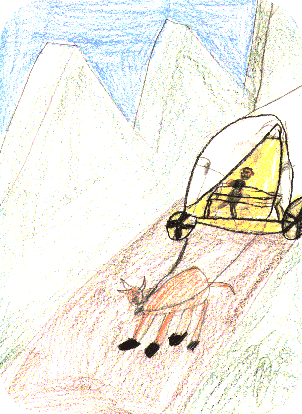 Description:
Crayon picture by Jamie, a 4th grader at Valley View Elementary.
Image courtesy of:
Heritage Gateway Project Images, These images have been gathered to support the Sesquicentennial celebration of the immigration to Utah.
Location: Grand Island (Sturh Museum), Nebraska - Location: 40:55:30N 98:20:30W Elevation: 1864 feet
Date: April 28, 1847
Between Loup Fork and the Platte River, Nebraska:
At 6 a.m., the temperature was fifty-nine degrees. During the morning, Brigham Young decided to have the wounded horse put out of its misery. Luke S. Johnson shot the horse. Orders were given during the morning for no man to leave the wagons except the hunters. The men had grade a road down to the small creek nearby, so the wagons could cross it. They continued in this work until 9 a.m., when the wagons started crossing.
The pioneers traveled to the Platte River and rested the animals on the banks near Grand Island at 2 p.m. Many deer were seen running across the large Island. Levi Jackman recorded: The bottom had the appearance of a vast green sea; no timber in sight only a narrow strip on our left along the river shore." The roads were extremely dusty and a strong wind blew it into the wagons, covering everything.
They traveled six more miles and at 6 p.m., established a camp on Wood Creek. A circle was formed and the horses put inside. Brigham Young advised the hunters to not go on Grand Island for fear of an Indian ambush.
Erastus Snow wrote: "The country we have passed over today is the most beautiful I ever beheld. A continuous, unbroken plain covered with green grass, from one to six inches high, as far as the eye can see in all directions, without any timber or other objects to obstruct the view, except the timber on Grand Island, south of us."
In the evening Luke S. Johnson gave Thomas Bullock a bunch of rattles taken from the huge four-foot snake that he had killed the day before. The oil was taken out and rubbed on Zebedee Coltrin's black leg which helped a great deal.
Winter Quarters, Nebraska:
Ann Agatha Walker Pratt wrote in her history: "My wedding day was April 28, 1847. I married Brother Parley P. Pratt, an Apostle in the Latter-day Saint church -- a very fine man, a true and loving husband always. My husband, being in charge of the company, was extremely busy mending wagons, looking up yoke-bows, making boy-keys, or pins to hold the bows in the yokes, hunting up the cattle, mating them, finding chains, especially lock-chains, for, bear in mind there were no brakes to hold wagons back going down steep hills in those days. These and a hundred other things occupied his time. Meanwhile we were busy making and mending wagon covers and in every way aiding and assisting to prepare for the long and toilsome journey."
Summer Quarters, Nebraska:
A meeting was held in the evening at John D. Lee's house. The brethren discussed how they should herd their cattle. It was proposed that one big herd be created for the safety and protection of the animals. After debating for two hours, the men agreed to appoint N.K. Knight to superintend the herd. In exchange, the other brethren would till his land. The boys in the settlement would aid Brother Knight with the herd.
Mormon Battalion, at Los Angeles, California:
Twenty-eight men from each company were assigned to work on the fort. The day was very busy for some. Henry Standage stood guard through the night, worked on the fort ten hours, paraded with his arms, and did his own cooking. He wrote: "The fact is if our Battalion Officers who profess to be our brethren would act as fathers to us we could have easier times but they seek to please the Gentiles and to gain favor at our expense. Our officers will even find fault with us even in these times, for not having our guns in good bright condition when it was impossible for us to do in consequence of our being tented out and crowded 9 into a tent calculated at first for only 6. Being compelled to leave our guns outside the tent or lay them on the ground in the night time." In the evening, Company C and Lt. James Pace's detachment arrived safely from Cajon Pass.
Company B, Mormon Battalion, at San Diego, California:
Henry Bigler commented on "something of a human form" who was seen on the streets of San Diego begging for food. He claimed to be one of Fremont's men and said he had been traveling in the Rocky Mountains for years. One of his shoulders was disabled and he had a wound in his head. Horace M. Alexander recognized him from the Missouri. The man acknowledged that he was one of the mob who massacred the Saints at Haun's mill in Missouri. He begged for forgiveness.
Robert S. Bliss wrote in his journal while sitting on a ten-pounder gun above San Diego: "The prospect is delightful the Town is below me still farther South lies the Ships in the Harbour & farther still lies the Ocean; North & West lay another Bay & still farther West the Pacific with its Breakers is in Sight for many leagues at Sea. Yesterday the 'Congress' Sailed on a short Cruise. She will be back in a few days; East 2 leagues is the Mission we quartered when we first Came to the Coast in Sight of the Fort; I also can see far to the South a number of Islands where I am told Walrus & Seals abound; It is rumored that a body of 1500 Mexicans are coming here to take the country from us if they do they will have to fight hard for our Guns are loaded ready to apply the match any moment."
Sandwich Islands (Hawaii):
Elder Addison Pratt's ship dropped anchor in the harbor of Honolulu. He wrote: "I have been on share and had a ramble. This place is verry much altered since I was here in the year 1822. The town is laid out in streets mostly crossing at right angles, and the houses are mostly well built, considering the climate and materials."
Sources:

Wilford Woodruff's Journal 3:162
Erastus Snow Journal Excerpts, Improvement Era 14:821
Diary of Howard Egan,
Pioneering the West, 31
Levi Jackman Autobiography, typescript, BYU-S, p.29
Our Pioneer Heritage, Vol. 8, p.244
William Clayton's Journal, p.111
Kelly, ed., Journals of John D. Lee, 1846-1847 and 1859, 158
The Journal of Nathaniel V. Jones, The Utah Historical Quarterly, 4:16
Journal of Henry Standage in Frank Alfred Golder, The March of the Mormon Battalion, 219-20
Journal Extracts of Henry W. Bigler, Utah Historical Quarterly, 5:60
Elsworth, The Journals of Addison Pratt, 326
Source: 150 Years Ago Today ©These materials have been created by David R. Crockett. Copies of these materials may be reproduced for teacher and classroom use. When distributing these materials, credit must be given to David R. Crockett. These materials may not be published, in whole or part, or in any other format, without the written permission of Mr. Crockett, Tucson Az, crockett@goodnet.com.