Pioneer Date Summary
Previous | Next
03/25/1847 - Crockett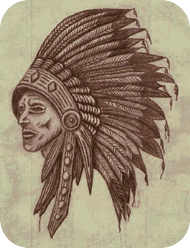 Description:
Line drawing by Dusten, a ninth grader from Central Davis Junior High.
Image courtesy of:
Heritage Gateway Project Images, These images have been gathered to support the Sesquicentennial celebration of the immigration to Utah.
Date: March 25, 1847
Winter Quarters, Nebraska:
Omaha Chief Big Elk visited with Brigham Young. President Young complained that some Big Elk's men had stolen two of George A. Smith's horses during the night and they had recently been killing a number of the Saints' cattle. Big Elk promised that if the horses were found, they would be returned, but that the Ponca and Pawnee were also nearby and may have been causing this trouble.
Brigham Young replied in letter to Mr. E.M. Estill, who had inquired about the possibility of opening a store at Winter Quarters. President Young mentioned that a variety of articles was needed by the people. These articles needed to be light, durable, and portable. Botanic medicine was especially needed. "This place will be under the watch of vigilant police, and we shall not expect Indians to come within the stockade, or that any disorderly conduct will be tolerated here. Consequently we shall object to your bringing any spirituous liquors to this place, to sell or give away."
President Young met with the Twelve and the High Council in the evening. The sale of the flour mill to John Neff was approved and it was decided by vote that John Neff should take one fifth of the grain at the mill as payment for its use. President Young warned the brethren that if any man shot an Omaha Indian for stealing, they would be delivered up to Big Elk for the murder.
Mormon Battalion, at Los Angeles, California: The battalion officers were trying to make arrangements for some new clothing for the men. Mule teams left in the morning for San Diego to obtain provisions. Henry Sanderson observed that things were 3-500% more expensive in Pueblo de Los Angeles than they were back east.
St. Louis, Missouri: At a meeting of the St. Louis Branch it was decided to divide the city into six wards with leaders over each, acting as bishops. The leaders appointed were: George Norval of the 1st Ward; Thomas Forester of the 2nd Ward; William Standing of the 3rd; John Barker of the 4th; James Beck of the 5th; and Samuel Musick of the 6th Ward.
Sources:

Watson, Manuscript History of Brigham Young, 539-40
Our Pioneer Heritage, Vol. 5, p.440
Record St. Louis Branch 1847-50, p. 5
Journal of Henry Standage in Frank Alfred Golder, The March of the Mormon Battalion, 21
Nibley, Exodus to Greatness, 347
Brooks, On the Mormon Frontier, The Diary of Hosea Stout, 1:243
Source:
150 Years Ago Today
©These materials have been created by David R. Crockett. Copies of these materials may be reproduced for teacher and classroom use. When distributing these materials, credit must be given to David R. Crockett. These materials may not be published, in whole or part, or in any other format, without the written permission of Mr. Crockett, Tucson Az,
crockett@goodnet.com
.