Pioneer Date Summary
03/26/1847 - Crockett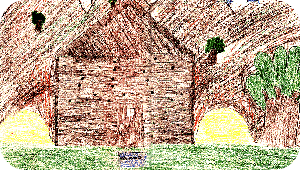 Description:
Crayon drawing by a student at Grantsville Middle School.
Image courtesy of:
Heritage Gateway Project Images, These images have been gathered to support the Sesquicentennial celebration of the immigration to Utah.
Location: Winter Quarters - 1014 miles left, Nebraska - Location: 41:21:41N 95:56:45W Currently the site of Florence, Nebraska, Winter Quarters was settled in September, 1846 as a temporary resting place for the pioneers. It is located just west of the Missouri river in Nebraska.
Date: March 26, 1847
Winter Quarters, Nebraska: Horace S. Eldredge, the city marshal, rang the Nauvoo Temple bell at 9 a.m. signalling that a public meeting was to be held. A special conference was convened at 10 a.m. to transact business before the Twelve and the other pioneers left for the west. Heber C. Kimball formally proposed that Winter Quarters be stockaded on four sides for protection. Brigham Young counselled those living in dugouts to move out of those houses into more healthy homes for the summer. He warned the people not to use bloodshed against the Indians, who were descendants of Israel. Precautions should be used to discourage the Indians from stealing, but shooting the Indians for stealing was not acceptable. He also condemned stealing within the city. Those caught should be delivered to the authorities. Orson Pratt and George A. Smith also spoke.
Norton Jacob attended this meeting. He later recorded: "Brother Brigham chastened the people severely for being so covetous and withholding their means in fitting out the pioneers. Instructed the pioneers to keep the word of wisdom."
In the afternoon Brigham Young preached to the Saints and announced that those who would follow after the pioneers this year needed to take eighteen months of provisions. To prevent families from leaving ill-prepared, as happened the previous year, a committee would be appointed to inspect each wagon. But he added, "If mob violence should rend it necessary for all to remove, take your cows, put your loads on their backs and fasten your children on the top. Where the saints do all they can, the Lord will do the rest." He warned the people that after the Twelve left, men would rise up, condemn the Twelve, and assert themselves as leaders to govern the people. Orson Pratt read to the congregation "The Word and Will of the Lord" (D&C 136) and commented on it. He was followed by Heber C. Kimball.
Wilford Woodruff met with his emigration company in the evening. He recorded, "I met with my company & expressed my feelings to them concerning labouring together for the season in raising grain taking care of the families of those who went in the pioneer company. The spirit of union prevailed among them."
The Twelve met with the William McCarey, a black member of the Church from New Orleans who claimed to be part Indian (see February 26, 1847). Mr. McCarey made "a rambling statement," claiming to be Adam in an Indian costume. He said he had an odd rib, showing his body to the brethren. He remarked that he discovered his missing rib in his wife. He entertained the brethren with is musical ability on the flute.
Mormon Battalion, at Los Angeles, California: Rations were very scarce. Only one pound of coarse flour and one and a quarter pound of beef was issued to each man.
Company B, Mormon Battalion, at San Diego, California: The "Savannah" sailed for New York with a salute from four cannons on the "Congress," which could be heard five miles away. Many of the men had sent letters for family and friends in the east, to be taken on the ship.
Pueblo, Colorado: Corporal Arnold Stevens died of internal bleeding, caused by injuries sustained the previous week from a mule. John Steele wrote: "He was dressed in his robes and neatly laid in a coffin made of what is called puncheons of cottonwood. These are slabs split off like staves." He was buried with military honors.
Sources:

Watson, Manuscript History of Brigham Young, 531-32
Kelly, ed., Journals of John D. Lee, 1846-1847 and 1859, 134-35
Wilford Woodruff's Journal, 3:143
Brooks, On the Mormon Frontier, The Diary of Hosea Stout, 1:243-44
Our Pioneer Heritage, Vol. 2, p.238
Journal of Henry Standage in Frank Alfred Golder, The March of the Mormon Battalion, 215
The Journal of Robert S. Bliss, Utah Historical Quarterly, 4:89
Journal Extracts of Henry W. Bigler, Utah Historical Quarterly, 5:59
Norton Jacob Autobiography, BYU, p.45 - p.46
Source:
150 Years Ago Today
©These materials have been created by David R. Crockett. Copies of these materials may be reproduced for teacher and classroom use. When distributing these materials, credit must be given to David R. Crockett. These materials may not be published, in whole or part, or in any other format, without the written permission of Mr. Crockett, Tucson Az,
crockett@goodnet.com
.