Pioneer Date Summary
05/19/1847 - Crockett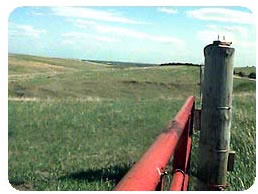 Description:
The Nebraska prairie with the Platte River in the background.
Image courtesy of:
Heritage Gateway Project Images, These images have been gathered to support the Sesquicentennial celebration of the immigration to Utah.
Location: Ash Hollow (Lewellen) - 633 miles left, Nebraska - Location: 41:19:53N 102:08:36W (south side of the river. So named from a grove of timber growing on it. It occupies a space of about fifteen to twenty acres, and is surrounded by high bluffs.)
Date: May 19, 1847
On the North Platte River, Nebraska:
It rained overnight and the morning was gloomy and cloudy. The pioneers moved out in a disorganized fashion before breakfast because the feed was had been poor near the encampment. After two miles, they crossed two small streams and soon halted for breakfast at 6:20 a.m. Heber C. Kimball and Thomas Woolsey traveled ahead to find a place where the feed was good. Brother Woolsey was sent back to report that the feed was not good near the bluffs. Elder Kimball continued on to find a road through the bluffs. He traveled ten miles and saw a number of very large wolves. Howard Egan recorded: "He tried to scare them, but they would not move out of their tracks, and he had no firearms with him. If he had been afoot, I presume they would have attacked him. Brother Kimball has rode so much ahead to look out the way for the camp he has almost broke himself down and is pretty near sick, but his ambition and the care he has for the camp keeps him up." Elder Kimball later described one of the wolves as being as large as "a two-year old steer."
At 8:40 a.m., the pioneers started again. After three miles of traveling in the rain, they began to ascend the bluffs which were high, steep and sandy. They traveled a winding course through the bluffs and crossed another stream about twenty feet wide, which they named Wolf Creek in honor of Elder Kimball's wolf experience earlier in the day.
Wilford Woodruff penned: "We crossed the worst sand hill bluff of about one mile that we have crossed on the journey & what made it still worse the rain was pouring down upon us continually." The wheels of the wagons rolled in the sand nearly to the hub.
At 10:30, they halted for the midday rest, to wait out the rain and continued their journey at 2:55 p.m. Soon a heavy rain again started to fall. They only traveled two more miles, making eight total, and camped for the night on the banks of the river. [There site for their camp is today covered by the waters of Lake McConaughy.]
William Clayton wrote: "The rain still continues to pour down heavily and this has been the most uncomfortable day we have had and the hardest on our teams. The brethren, however, feel well and cheerful." Levi Jackman commented about the barren land: "The sight of a tree is out of the question. It is seldom that we can see so much as a bush." Wilford Woodruff summed up this wet day: "We had the most water fall during the day and evening that we have met with on the whole journey."
After dark, Willard Richards read "A Game of Chess with Bonapart" to Brigham Young, Heber C. Kimball, Amasa Lyman, Wilford Woodruff, and Ezra T. Benson in Willard Richard's wagon.
Winter Quarters, Nebraska:
On this pleasant morning in Winter Quarters, Mary Richards put out the quilts and tent to dry which she had soaked over night. She then cleaned the house, stewed some apples, and then made a pie. She received a nice visit from a number of sisters.
Summer Quarters, Nebraska:
At 7 a.m., Isaac Morley had all the brethren gather at John D. Lee's house. President Morley said that he was pleased with the progress of Summer Quarters but was disappointed to hear that there were some bad feelings in the camp by a small minority. "Such things remaining among us is calculated to destroy the peace and happiness of the whole camp. It is wrong, brethren. Be united." He exhorted the brethren to hearken to Brother Lee's counsel.
At this point, Joseph Busby, one of the men who had disagreements with Brother Lee, spoke up. He stated since he had been one of those condemned as not being first rate, "I want the boil opened that we may see the extent" of the problem. Samuel Gully said that he would prick the boil. He rose up and spoke out against those who were rebelling against the division of land policy. He defended Brother Lee. These five rebellious men would not work together for the good of the settlement.
Simeon A Dunn arose in a rage. President Morley instructed him to calm down. Brother Dunn then tried to justify the actions of the five men, including himself. John D. Lee spoke up and corrected several of his statements. Joseph Busby arose with what Brother Lee described as "personating speeches and threats." Isaac Morley rebuked his actions and told him his spirit was not of God. He exhorted him to have humility and union. President Morley stated that "it was an easy matter to preside over men that was disposed to do right but arbitary persons always caused trouble." He has for a sustaining vote that all would strive to do right. The meeting finally closed at 8 p.m.
Company B, Mormon Battalion, at San Diego, California:
A company of fifteen men were sent to Warner's Ranch to help put down an uprising of Indians in the area.
Sources:

William Clayton's Journal, p.160-63
Howard Egan's Diary, Pioneering the West, 44
Wilford Woodruff's Journal, 3:179
Erastus Snow Journal Excerpts, Improvement Era 14:1099
Bagley, ed., The Pioneer Camp of the Saints, 160
Kelly, ed., Journals of John D. Lee, 1846-1847 and 1859, 167-69
The Journal of Robert S. Bliss, Utah Historical Quarterly, 4:93
Source:
150 Years Ago Today
©These materials have been created by David R. Crockett. Copies of these materials may be reproduced for teacher and classroom use. When distributing these materials, credit must be given to David R. Crockett. These materials may not be published, in whole or part, or in any other format, without the written permission of Mr. Crockett, Tucson Az,
crockett@goodnet.com
.