Pioneer Student Work
Pioneer: Emma Wotton Kirkham (Alexis - 4th Grade)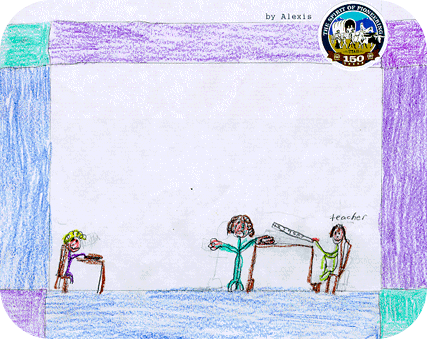 Description:
4th Grade Alexis's picture to accompany her report on pioneer Emma Wotton Kirkham.
Image courtesy of: Heritage Gateway Project Images, These images have been gathered to support the Sesquicentennial celebration of the immigration to Utah.
Emma is my great-great grandmother. She was born in Berkshire, England on November 28, 1852. When she was six years old she went to a school where she could go home for lunch. She helped her mother scrub the laundry which made her late for school. She got her hands whipped with a ruler.
Emma was a pioneer to Utah. She became a widow with eight children. She remarried to a man who already had a wife. Back in that time some pioneer men had two wives. That lady had seven children, but when she had the eighth child, she died. Emma had to raise all sixteen children in a small log cabin. Emma and her sixteen children came to Lehi, Utah.
Living in this time and raising sixteen children was very difficult. Emma was the second wife of a polygamist so she was on her own most of the time. She still found time to be active in the Mormon Church. She helped start the Relief Society, a women's organization. She died April 22, 1926, in Salt Lake City, Utah.