Pioneer Student Work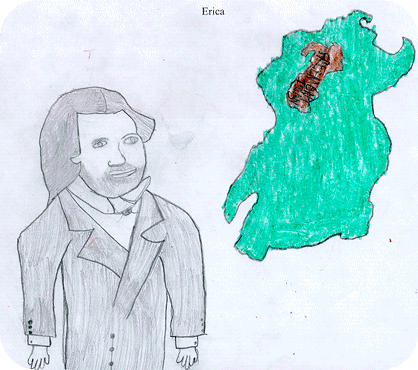 Description:
4th Grade Erica's picture to accompany her report on pioneer John Charles Fremont.
Image courtesy of:
Heritage Gateway Project Images, These images have been gathered to support the Sesquicentennial celebration of the immigration to Utah.
Pioneer: John Charles Fremont (Erica - 4th Grade)
John Fremont was born in 1813 in Savannah, Georgia. He was an explorer, army officer, and politician. Between 1842 and 1845, he mapped most of the Oregon Trail. The second highest peak in the Wind River Mountains was named after him. He explored the Great Basin and Pacific coast. An island in the Great Salt Lake was named Fremont Island because he explored it when he came here. He was a pioneer with the spirit of adventure, courage, perseverance, and self-reliance. I admire him because he helped make it possible for the pioneers to settle Utah by mapping the Oregon Trail. They used these maps when traveling here in 1847.